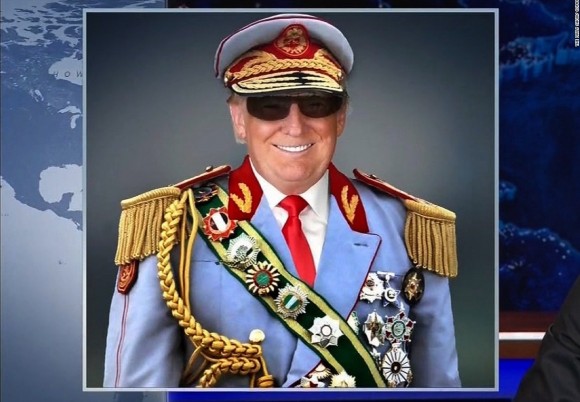 In August of 2008, I was in a state of catastrophic heart failure when I reached St. Francis Hospital in Evanston. A brave and talented heart surgeon was working at the hospital that morning named Mohammad Akbar. I required a stent in my 99% occluded lateral descending artery, also called the "Widow Maker."
Dr. Akbar somehow managed to insert the stent, which bought me enough time to get stronger so I could endure a quadruple bypass operation three days later. When asked afterward how he was able to do the stent insertion, which seemed almost impossible because of the complete blockage, he simply pointed upward and sighed.
A week ago, Dr. Issam Awad, head of Neurosurgery at the University of Chicago Hospital, performed a tricky brain surgery on a "tangerine sized" tumor on my pituitary gland. Dr. Awad, a Christian Arab man, came to America from Beirut, Lebanon, for Med School and stayed to practice. He has written 300 academic papers and is at the top of his game at 59.
So when I hear a Donald Trump announce that he would allow no Muslim immigrants or refugees into America I think of Dr. Akbar and Dr. Awad and my quality of life. I also think of a Ted Cruz who would like to carpet bomb our enemies "back to the Stone Age."
What happened to the welcoming America that allowed Cruz's Cuban father into this country even though he fought for Fidel Castro before fleeing Cuba?
The America that I love is not the small minded, immigrant fearing, know-nothingness of cunning ignoramuses like Trump and Cruz and weaklings like Marco Rubio and Jeb Bush who do not have the courage to stand up for expanded immigration during a debate. And this is a Rubio whose parents also came from Cuba, trying to wear the American flag on his sleeve without having the guts to call Trump and Cruz out for pandering to the know-nothings.
********
Then we have Bernie Sanders and Hillary Clinton with their pathetic pandering to the Democratic primary electorate. Sanders promises free lunch to everybody except "Wall Street" and "Big Pharma." Tax them enough and there will be free medical care, excused college debt, expanded Social Security and a carriage for your Fairy Godmother. His stump speech is the mirror image of Donald Trump's with less hair. He is a sophisticated liar who never utters his mother's name and calls his Jewish father a "Polish immigrant," disavowing his Jewish heritage in a manipulative way.
Then there is Hillary Clinton who can't seem to beat an unknown avowed socialist from New York City. Hillary must desperately grab for the women who forsook her in Iowa and New Hampshire and African American voters who rightfully distrust professional bleeding hearts who grab their votes and take them for granted in DC.
The real possibility of a Trump versus Sanders Presidential election is utterly appalling to me. I understand the anger of the electorate but I'm amazed by the stupidity of an electorate that could place these two clowns at the top of the ticket. But there are potentially a couple of positive outcomes to this slog towards Trump vs. Sanders.
We could get a viable alternative third party candidate like Michael Bloomberg. The irony would be delicious if he ran. You would have three New Yorkers running in the same election – two enormously wealthy ones financing their own candidacies and one professional wealth beater in Bernie. Making it even more interesting for me is that it would include two Jews, Sanders and Bloomberg, against Trump whose daughter Ivanka has recently converted to become an Orthodox Jew.
Bloomberg has run on each party's side and basically rejects the lunacy of both. He might win, but it would take moving the election to the snake pit of the House of Representative to make it happen. That would be a bad precedent for the country.
Trump vs. Sanders might mean a full reset of American politics. It could mean the end of both major parties as we know them today. In the age of Google and Facebook it may well be that Democrats and Republicans are obsolete.
I do not recognize the politics of Trump and Sanders as part of my America. Trump does not represent the America that welcomed immigrants and desperate men and women fleeing Hitler and Castro. Bernie Sanders' America does not represent entrepreneurs and creators who take risks and start companies and invent stuff. Trump and Sanders represent anger, resignation and contempt.
I am glad my surgeons and ancestors arrived here before this country slipped into collective madness.
Question: Would you like to see more immigration or less?