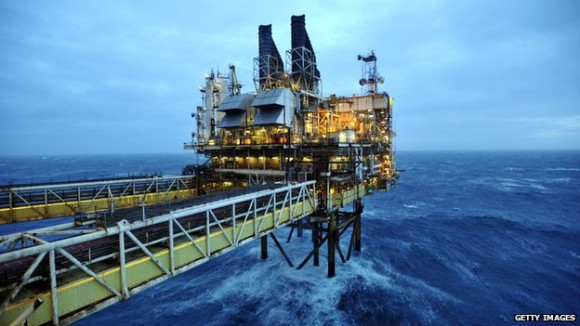 The price of oil has hit another five-year low as fears of oversupply continue to mount.
Brent crude was down $1.77 at $67.30 a barrel in Monday afternoon trading, having earlier hit $66.77 – its lowest since October 2009.
US crude was down $1.44 at $64.40, after falling as low as $64.14.
Morgan Stanley predicted that Brent would average $70 a barrel in 2015, down $28 from a previous forecast, and be $88 a barrel in 2016.
The investment bank also said that oil prices could fall as low as $43 a barrel next year. Analyst Adam Longson said that markets risked becoming "unbalanced" unless the Opec producers' cartel decided to intervene.
Saudi Arabia, the cartel's biggest member, resisted calls at last month's meeting to cut production despite the slide in prices, which have fallen more than 40% since June.
Kuwait, another Opec member, said that oil prices were likely to remain about $65 a barrel untilthe middle of next year unless Opec cut output.
The further falls in the oil price put more pressure on both the rouble and Russian stock markets, with the currency losing 2.2% against the dollar at 53.66 and down 1.8% against the euro at 65.80 in afternoon trading.
Some analysts believe that Russia will increase interest rates to as much as 12% this week in a bid to prevent a full-blown financial crisis.
Last week, the Russian government warned that the economy would fall into recession next year as the falling oil price and Western sanctions, in response to its role in eastern Ukraine, take their toll.
Russia's economic development ministry estimates the economy will contract by 0.8% next year after previously estimating growth of 1.2% for 2015.
China slows
Global confidence was also undermined on Monday after European Central Bank governing council member Ewald Nowotny warned that the eurozone economy was experiencing a "massive weakening", sending the euro lower against the dollar and the pound.
The head of Austria's central bank is keener than Germany on the idea of the ECB introducing more money printing, or quantitative easing, and using the funds to buy government bonds in a bid to help stimulate flagging European economies.
Markets were also unsettled by official data showing that China's export growth slowed sharply in November, while imports surprisingly contracted, resulting in a record monthly trade surplus.
Tony Cross, market analyst at Trustnet Direct trading group, said the figures indicated that the world's second-largest economy was slowing down: "Chinese trade data fell well short of expectations and this has sent traders scurrying for the exits as the new week gets under way."
Meanwhile, figures showing that the Japanese economy contracted more than initially thought in the three months to 30 September hit the yen, sending the dollar to a seven-year high.
Gold edged up $1.25 to $1,195.25 an ounce in London.