The issue that seems to be giving America heartburn in 2016 and driving the election rhetoric is the gulf between the well-off and the falling-off. Underlying that is the feeling that it is getting harder and harder to move from "barely getting by" to "feeling successful."
I listened to a remarkable podcast this week by Malcolm Gladwell called "Carlos Doesn't Remember." It was so good I listened to it twice. Gladwell recounts the struggle of "Carlos" (not his real name), an exceptionally gifted student from a broken home who is trying to reach his potential. He was spotted in 4th grade in a rough Hispanic neighborhood in Los Angeles by Eric Eisner, a wealthy Entertainment Industry lawyer turned philanthropist, who helps disadvantaged but brilliant kids reach their best life outcome. Eisner says that he has to find kids by the 4th grade; otherwise they will be sucked into gang culture or fall so far behind their affluent counterparts that they will be too discouraged to do the work to catch up.
The Carlos story is complicated by numerous crises in Carlos' personal life: a missing father, an emotionally fragile mother who abandons Carlos and his sister and ends up in prison in Texas, and a foster child system that separates Carlos and his younger sister. Despite all of this turmoil, Carlos, who is now a teenager, continues to excel academically, even at the elite private high school 45 minutes away that Eisner has helped him get into.
The thrust of Gladwell's podcast is that middle class and wealthier children get several chances to screw up in life, but kids like Carlos, if they are extremely lucky and smart, get one chance. If they screw up just once they miss their opportunity to rise above their bleak circumstances.
Listen to the podcast on youtube here: https://youtu.be/2Uc-u79D31w
*****
I was reminded of Carlos while talking to Scott Wallace of southern Indiana's Vincennes University, which has perhaps the most sophisticated training program in the country for aspiring CNC machinists.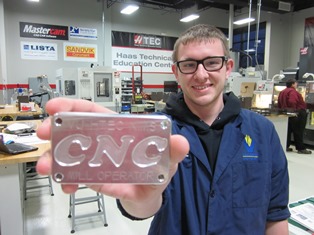 The Vincennes approach is a 60-credit hour Associates Degree with 5 instructors and 15 modern pieces of Hurco CNC lathes and machining centers.
In the two-year curriculum students are challenged with classwork and intensive instruction on the production equipment. Mr. Wallace indicated that most of the graduates go directly to the shop floor at employers in the Indiana, Kentucky and Illinois areas near Vincennes. Enrollment is full at 75 students for the first year. They have about 60 in the second year of the degree program.
They also have an advanced one-year program with 14 students in programming, which enables students to earn a second Associates Degree.
The Vincennes program costs $177 per degree hour, so a full-time paying student is on the hook for $10,000 tuition without assistance. Room and board adds to the tab.
I wonder if the smart, mechanically inclined young man or woman in Gary or Fort Wayne even thinks about their possibilities for a career that a Vincennes curriculum might provide. And even if somebody informs them about Vincennes, are their lives too complicated and filled with personal crises to take a chance on a two year commitment, $10,000 in tuition, and life away from what they are familiar with?
When Bernie Sanders and now Hillary Clinton float the idea of free college for all it sounds appealing, but Malcolm Gladwell's piece dramatically portrayed how life gets in the way, even for the most gifted of students.
Vincennes is a nice option for kids who have some prior initiation to machining and math. Unfortunately, so many young people living in the inner cities have very little of both and are born into desperate circumstances which hold them down. If it is extremely difficult for an exceptionally gifted student like Carlos who has the help of a wealthy angel looking out for him, what chance do people have who don't have such advantages?
Question: Does everyone have a chance to achieve prosperity in the United States?