I've seen a lot of change in my lifetime.  Cubs winning the World Series.  The Berlin Wall falling.  The Internet altering work and pleasure.  And on my birthday this year, I read the announcement that the Jackson Park Golf Course and the old South Shore Country Club in Chicago are going to be turned into the Pebble Beach of the Midwest, and huge national golf tournaments will be played on it.
Tiger Woods, at the urging of President Barack Obama, is going to design the course, which will be adjacent to the Obama Library.
If Tiger does his job well and the money comes through, this course could be virtually unique in the world – a 7000-yard public course, nestled on Lake Michigan, 8 minutes from McCormick Place and 10 minutes from the University of Chicago.  But it will also be adjacent to the ugly South Side black ghetto of Chicago, a violent, murderous, scary jungle of apartments that you wouldn't want to walk into for fear you wouldn't walk out alive.
I know the area well.  The first 18 years of my life were spent living near the Jackson Park Golf Course's 6th hole.  My buddy Howard Isador and I played that hole hundreds of times, whacking irons at the green between foursomes during the summers.  We played with golf balls that lousy swingers sliced onto our lawns, bouncing hard against the cement of 67th Street at Euclid Avenue.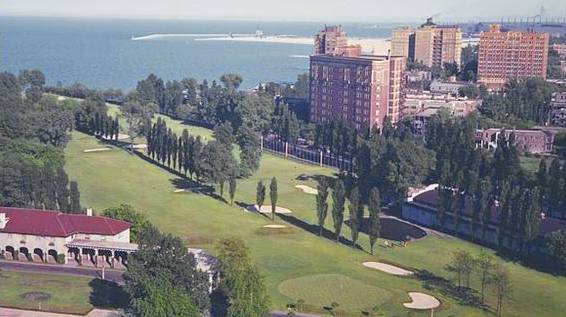 A few years later Michelle Robinson's family moved into a house at 74th and Euclid, seven blocks south of us.  That was a few years before she met and married Barack Obama.
Chicago has always been a city of neighborhoods and races.  There is Irish Chicago, Italian Chicago, Polish Chicago, Jewish Chicago, Mexican Chicago, Puerto Rican Chicago, Chinatown and the African American Ghetto.
The unique thing about Jackson Park Golf Course was that Blacks and Whites played the course together, even back in the 1950s and '60s, for $3 a round.  But not at the South Shore Country Club that shared a border with Jackson Park.  It was all White.  And it wasn't a genteel, friendly, tolerant White country club.  It was a nasty, don't you dare come on my precious grounds if you're Black or Mexican or Jewish, kind of club.
They didn't have to put up any signs.  Everybody just knew it.  And they wanted you to know it.  My friend Jerry Levine started delivering flowers for a local florist in 1958.  When he had to deliver to the magnificent South Shore Country Club Clubhouse he says he would run in with his flowers and get out quickly but stealthily, fearful that somebody might ask to see if he was circumcised.  Ah, those were the good old days.
By the mid 1970s enough people who looked like Michelle Robinson's family moved in to make the folks at South Shore find a different club.  The club was sold to the Daley-led city and the clubhouse made into a cultural center.  The golf course fell into disuse, and the private beach the club controlled became a beach mainly used by African Americans.
This was my Chicago in the 1960s and '70s.  It was White, but if Blacks got too close it turned—quickly.  My parents moved out to a downtown condo right after my younger brother, Jim, graduated from the University of Chicago Lab School.  Jim, my sister Susan and I all went to Lab because the local public high school was almost all Black, dangerous and awful.  Michelle Robinson attended the elite Whitney Young High School rather than South Shore High, a block from her home.
This was the Chicago and America that I grew up in.  So when I see Barack Obama become President and Michelle of 74th and Euclid become a beloved First Lady I am proud.  And when Jackson Park and South Shore Country Club merge to become Tiger Woods' signature Championship Golf Course on Lake Michigan I know this country has really moved in my lifetime.  Change comes hard in America.  Very hard in Chicago.  One hole at a time.
Question: Do you love or hate golf?