I believe that within a year or two we will look back at the period we are experiencing today as one of huge growth and opportunity. And for many, a time of miserable pain. 
The incredible bounce-back of the NASDAQ stock index into positive territory for the year is indicative of optimism in American business by the people who control the levers of big money. 
This is not an opinion that many of my 75 year old age group who have managed to survive the pandemic so far, seem to share. With 70 to 80% of the deaths among my age peers, that is hardly surprising. 
What am I seeing that makes me optimistic?
Many people have moved out of New York. I have several relatives and friends who packed their bags, moved out of confining apartments, especially if they have children, and fled to higher ground. One person I know in the machine tool business moved out of Manhattan with his wife and family to Rhode Island, near the seashore. He says he is moving for good. 
Another dealer fled Chicago's Lincoln Park for a rental house in Phoenix. Daughters of yet another business person I know left closed dance companies in New York to join family in Detroit's suburbs, along with their boyfriends. All of these experiences have been generally positive, with the business being carried out on the phone and on Zoom during the interruption.
In my own home, I see my wife resuming her educational and counseling practice effectively via Zoom. It has even expanded significantly because her client base is no longer confined to the neighborhood. Her clients are all over the United States now, and her students have increased as kids have come back from college and their parents see they need a boost. 
In my quarantine life, I have continued to make sales of Graff-Pinkert inventory and write the blog. Noah is on the phone all over the world every day and doing provocative podcast interviews. 
Yesterday, I emailed my order to our local grocer who I know, and picked it up after the fresh blueberries had arrived. He put it in my trunk himself without me having to bag the broccoli. We are paying out less per week for food because we are cooking more and buying fewer impulse items. Our fresh fish provider called us when she had made the salmon patties we love, and then she arranged for a mutual friend to deliver them to us.
This is how these successful local companies compete against a clumsy Walmart nearby: better quality, better service, throw in delivery.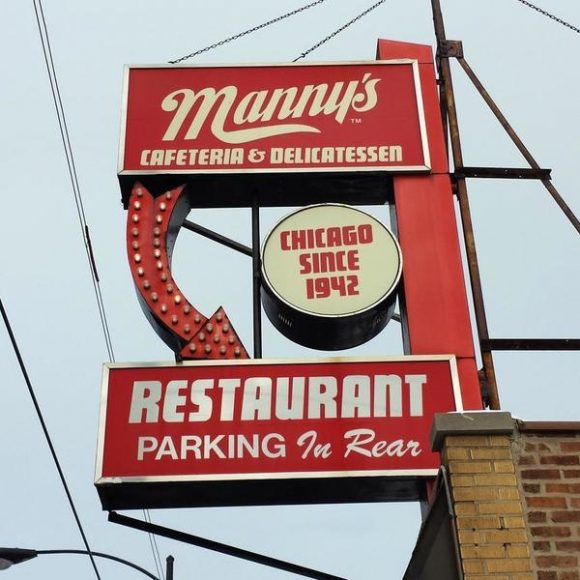 Chicago has a world-renowned deli named Manny's, near McCormick Place. Just one location, but it draws from everywhere during "normal" times. They are landlocked with no drive-through and Chicago's mayor virtually shut them down to fight COVID-19.
Manny's shifted strategy to email and delivery. They developed email lists by contacting local organizations in the area I live in. They promised to deliver meals to the parking lot of a defunct Toys R Us seven minutes from my house in the suburbs, at 5 p.m. last Friday. Eighty cars lined up to pick up their meals out of Manny's grandson's SUV. They will be doing the same thing this Friday.
In a regular year I go to Manny's once. Maybe I go twice in an IMTS year. If they continue delivery, I will at least triple my patronage. 
On the education front, college enrollments are down for the fall at most schools, and pay raises have been canceled. One school which is still doing well is Purdue in West Lafayette, Indiana. Purdue has not raised tuition cost in 9 years under President Mitch Daniels. It also bought online Kaplan University in 2017 to expand its ability to reach potentially hundreds of thousands of new students. More education is going to be via internet, as we are seeing with the vast array of innovative webinars which are bringing high-quality, relatively inexpensive education to larger audiences who want to watch.
The traditional college model is broken. Daniels and Purdue understand it. With change forced by the pandemic, we will finally see traditional overpriced colleges face real, credible competition. 
Question: What long-term changes do you see coming because of the Coronavirus?