About two weeks ago my boyfriend bought a 2013 all-electric Nissan Leaf while I cheered him on. Steve had been driving a 2005 Chevy TrailBlazer he bought used at Carmax for the past eight years, and was tired of the $50-$70 in gas money he burned up each week commuting 26 miles each way on a semi truck-heavy stretch of I-94 in Northwest Indiana. I planted the idea of an electric car in his head months ago, and after lots of Internet research and discussion we decided to go test drive one. We were impressed with the surprisingly powerful acceleration, smooth handling, interior space and comfort of the car. After the dealer accepted a price just above our seriously low-ball offer, Steve decided to roll the dice and go for it.
It's very exciting to get a new car, but we do feel the nervous uncertainty of being early adopters. The U.S. is definitely setup for gas engines, and stepping outside the norm means a learning curve, challenges and some sacrifice. People's reactions have been fun to watch. Family and friends want to see it, look under the hood, and drive it, and few people try to hide their skepticism about if this was a dumb purchase.
The price of a used Leaf sounds too good to be true. Our 2013 with 22,000 miles was priced online in the south suburbs of Chicago for $8900. After our initial offer of $7500 was rejected we agreed to pay $8000. These cars sold in 2013 for $30,000-$35,000 in three trim models, and look and feel like $30,000 cars inside. Most new Leaf buyers lease the cars, which has left the used Leaf market flooded and the used car price unnaturally low.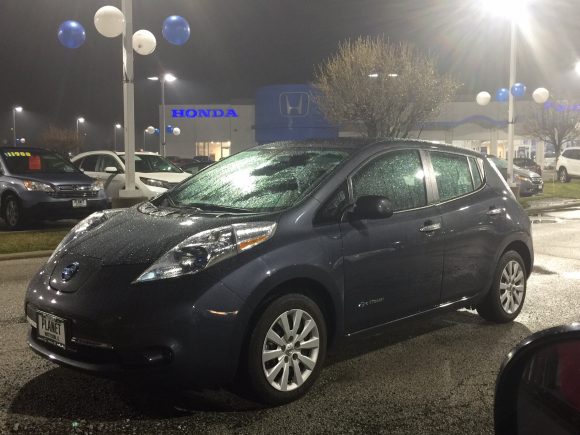 A 2013 Leaf when new reportedly had a range of about 100 miles per charge. Our used Leaf shows 91 miles of range after being fully charged, so we're already seeing some signs of battery capacity loss, though it doesn't seem too bad considering it's a four-year-old battery. This is the scariest part about the Leaf, not knowing how much battery capacity it will lose each year. There is some worry that we may be left with an un-drivable car that needs a $4000-$5000 new battery sooner than we expected. After reading hours of blogs and articles on the subject it's clear the battery wear issue isn't simple. A lot depends on how the car is driven, the climate the car battery is subjected to, and how it's charged.
Driving a Leaf does mean a bit of a lifestyle change. The automatic noting of gas prices I used to do while driving around has morphed into a feeling of smugness I try to resist while watching people burn dollars at the pump. You also see your neighborhood in a new way, because I wouldn't feel comfortable traveling more than 35-miles from home without having a plan in place to charge the battery.
It's surprising how many charging stations are around. Of course, there's an app for that. BP is reportedly working on a network of quick charge ports at their gas stations, though there aren't any in Chicagoland yet. We've already taken a trip to the Indiana Dunes National Lakeshore Park for a hike so we could try charging the Leaf at their free charging station while we walked the beach trails near Lake Michigan. And knowing there's a charger next to our favorite farmer's market in Chesterton, IN is exciting. Our local hospital and park have free chargers, and every Kohl's store has a free charger too, info that has changed our opinion of the retailer notorious for its fake sales.
Charging the Leaf is a learning experience. The car comes with a Level One 3.3 kW, 120-volt charger that fully charges the battery in about 11 hours, which perfect for overnight when electricity is the cheapest. You can purchase an after-market Level Two 6.6 kW, 240-volt charger for about $500 that will do the job in 5 hours, but you'd need an electrician to install a dedicated line in your home. A public fast charge port can charge the battery to near capacity in 30 minutes, but these aren't always free. It's estimated that home charging a Leaf costs $2-$3 from zero to full, a quick-charge station can be up to $7.
Since we've only had the car two weeks the newness and excitement hasn't worn off, we don't yet have a feel for how well the car will work for us in the long run. The modest car payment is easily being covered by Steve's previous monthly gas expenditure, so financially we should feel no worse off. And we still have my 2010 Subaru Forrester for Steve's fishing trips and our vacations. But there is a small sense of loss of freedom, because the combustion engine lets you get up and go anywhere without much thought. Right now we feel it's a positive move, but ask me again in a year and I'll let you know if we've passed the real world test, and Steve has in fact sold the TrailBlazer.
Question 1: Would you ever consider buying an electric car?
Question 2: Tesla's market value just surpassed Ford's. Does this make sense to you?