My son Noah had been begging me to go to a Cubs game for several months.  Sunday morning, the second day of the National League Championship Series between the Cubs and the Dodgers, he called me and put the hard sell on.  I had no excuse to say no, except that it was so much easier and cheaper to watch the game on TV like I had done all season.  I hedged and told him I would think about it and get back to him in a few minutes.
For Noah, such decisions are pretty simple.  If you want to go, you go.  For me it seemed much more complicated.  I see the game so much better on my 60" Samsung.  I deal with constant double vision with one eye 20-300, the other 20-25, thanks to six retina surgeries.  Knee replacement, heart damage and 71 years make everything a little harder.
But Noah was persistent.  He texted me, "If not now, when?"  He used my own B.S. on me, and it worked.  I called him, told him to buy two tickets for $250 each or less off StubHub, and I'd meet him at the L station next to Wrigley.
I picked up the three o'clock train into the city.  A father and son were sitting across from me.  I was wearing a Joe Maddon Cubs jersey that I had just ripped the tag off of, and he had one too.  They were headed to the game and had been there the night before.  We started talking like we were members of the same family.  I guess we were.
These days most folks on trains have earbuds on, isolating themselves from the other passengers, but I was in a mood to engage.  A young guy next to me was wearing a Chicago Bulls sweatshirt and carrying a skateboard.  I tried talking to him about this year's Bulls team.  He looked at me like I was a Martian, but a black fellow in front of me was delighted to talk hoops.  He knew the game, and I think he was amazed that I did too.  We talked about the seemingly brilliant trade the Bulls had pulled off that day of Tony Snell to the Milwaukee Bucks for Michael Carter Williams.
After the one-hour trip to the city, I got off the train and headed for the subway three blocks away to get to Wrigley Field.  There were 200 people there trying to get on a train that could accommodate maybe 100 more.  I squeezed on, inhaling deeply to fit in my ample behind ahead of the closing automatic door.  Just made it.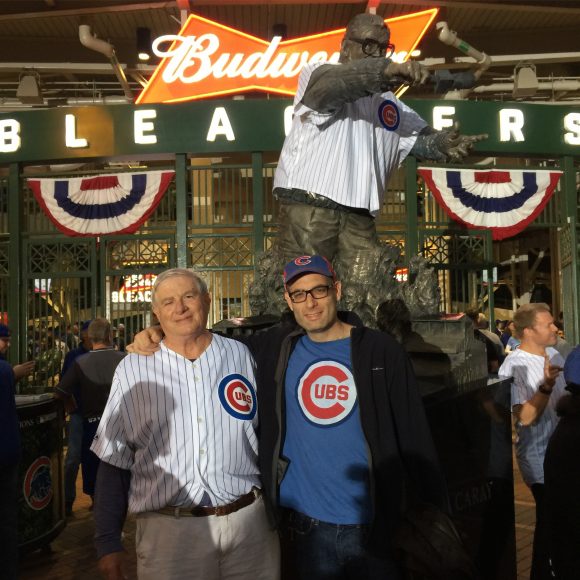 At the Addison station I finally exhaled and exited the train.  Noah was parking a mile away at the lakefront tennis courts, the night's only freebie.  I watched the teeming masses go by as I waited for him.  There were beggars with their pathetic pleas for dollars to fill their cups—to buy booze I imagined.  I gave to one of them.  Two fellows in electric wheelchairs looked upbeat.  A blind man in a Cubs jersey surveyed the street, crossing with all of his senses and his white and red cane.  Two sexy escorts with skirts wrapped tightly around their slender bodies ending just below their navels added some local color.
Noah finally ambled along.  We bought some relatively inexpensive bottled water at a little Latin grocery, liquor store.  We headed for the stadium to imbibe the vibe and met a cousin of my daughter-in-law who talked some baseball with us and then shot photos of Noah and me on our iPhones.
We entered Wrigley after traversing the metal detectors.  I think President Obama and Michelle were at the game, incognito, because there were four ominous black Suburbans parked next to a side entrance with a "Secret Servicey" looking guy standing guard.  On the way home the four Suburbans sped by us at 80 miles per hour, sirens blaring, headed toward the Obamas' Chicago home.
We eventually shoehorned into our seats, about 50 rows up behind home plate.  Good seats for someone with some vision impairment.
Andre Dawson threw out the first ball, and Wayne Mesmer, the wonderful baritone voice of the Cubs, sang God Bless America and then the Star Spangled Banner.  I sang along as loud as I could and felt very patriotic and blessed to be an American and a Cubs fan, in that order.  If the rest of the game was rained out it still would have been worth coming.
As I was singing I remembered my mom taking me to Wrigley 60 years earlier to see the Brooklyn Dodgers play the Cubs.  The Dodgers had Jackie Robinson, Roy Campanella, Duke Snider and an 18-year-old Sandy Koufax.  I think she paid 25 cents to get in on Ladies Day.  I recalled her dad, who was a kid in 1908 when the Cubs last won a World Series.  He used to regale me as a kid about meeting Tinkers, Evers and Chance from that team.  They used to buy liquor at his mother's little grocery.  My Cubs lineage runs deep.
I loved our seats, not for the view, but for the people sitting all around us.  There was a mom and daughter right in back of us who really loved the game.  They had been there the night before to the watch the Cubs win.  A man and his wife held their two babies through the entire game next to Noah, and the kids never cried.  A very knowledgeable fan interpreted some finer points of the game to me next to my right shoulder.
We had blue towels to wave and stood up every time it got exciting.  Unfortunately that wasn't that often in a 1-0 game won by the Dodgers with five hits, total, by both teams.  Clayton Kershaw of the Dodgers pitched like Sandy Koufax.
But it hardly mattered.  The game may be the "thing," but the "vibe" was everything to me.  If not now, when?
Questions: What is the best sporting event you've ever attended, and why was it the best?
Are sports better on TV?