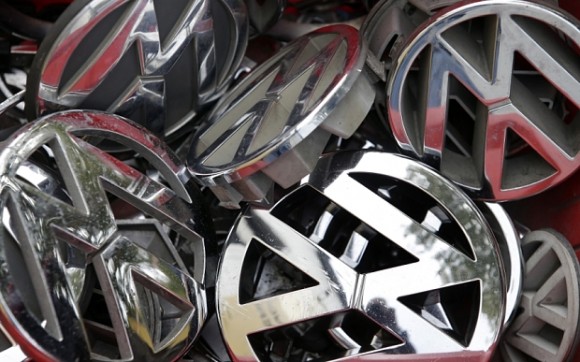 The mess that Volkswagen now finds itself in will be a business case study that students at Harvard and Penn will have fun with for years. But for VW it is a problem that just keeps getting worse by the day. It has cost VW CEO Martin Winterkorn his job and will cost the company many, many billions of dollars.
As a spectator who has never even considered owning a diesel automobile, I find it a fascinating case of over-reaching, because Winterkorn promised everybody he was going to run the biggest car company in the world and do it by pushing diesel cars.
Unfortunately, the EPA in the U.S. would not oblige VW like the Europeans had by relaxing the emissions standards on the uniquely nasty emissions of diesels. A conspiratorial thinker might believe that the tough diesel emissions standards were instigated by VW's competitors in America, but I doubt it. The EPA, particularly under the Obama administration, appears to hate all the auto companies, except maybe Tesla. VW probably thought it could buy the EPA or cajole it, or muscle it like it does the European regulators, but then the company discovered nothing was going to work except adding very expensive pollution control equipment to its cheap little small cars that would make the cars either uncompetitive on price or unprofitable, or both. So VW decided to go with the cheating software fix, that in its arrogance figured nobody would ever catch.
You can fool some of the people, some of the time – you know the rest. The suspicion is that maybe somebody from BMW, who knew how much it cost to put the costly diesel emission controls on their $60,000 SUV, made a call or sent a love note to the EPA, saying that VW's cheap pollution fix did not add up. So the EPA decided to test and retest the small VWs to find out what the company's secret sauce was. The secret sauce was software trickery that falsified the emission test results.
If it was only diesels in the U.S. it would have been a blow to the company, but since VW's cars were a sales flop here, anyway, it would not have been a catastrophe. But when you are dealing in lies, you better be a consistent liar, which VW was. The deceptive diesel software is in all of the small European diesels too, about 11 million on the streets, all spewing worse fumes out the tailpipe than their test readings indicated. Wolfsburg – you have a problem!
As a business story, it is all so juicy. Corporate arrogance, lies, clever masking software, CEO resignation, regulators in Europe running for cover! Personal injury lawyers are probably figuring out whether they can manufacture some lawsuits out of it.
The Tanaka airbag failure took many years to unravel, but the Volkswagen diesel bubble broke quickly.
Volkswagen's disconnect with the American market has some parallels with what I discussed in the DMG MORI story I wrote a couple of days ago. DMG wants to be the biggest machine tool builder in the world. Tying up with Mori-Seiki seemed like a good way to get there. But like VW's difficulties working with an American market that dislikes diesel and navigating American regulators who would not simply wink at an inconsistency when it stared them in the face, DMG has had trouble responding to the service needs of American manufacturers.
The automotive industry as a whole must feel edgy these days. We appear to be close to the beginning of an enormous shift in the market. Apple and Google want to sell an autonomous car in five years. Tesla hopes to bring its mass market electric car to market in 2017. Uber wants to change the way we own and drive cars. It just commandeered almost the entire robotics department from Carnegie-Mellon to speed up its driverless car ambitions. Mercedes, BMW and VW recently bought Nokia's mapping software for $3 billion to try to catch up on the autonomous car.
We are near some kind of inflection point where software will become more significant than hardware in car purchases. This is what Silicon Valley sees as the trillion dollar opportunity.
Martin Winterkorn was playing yesterday's game by trying to use software trickery to mask a flaw in his hardware. Apple and Google are rich enough to muscle their way into the automotive world by either buying or hiring Tesla or another car builder to make their vehicles, which they see as software delivery packages. VW and many other car companies have more to worry about than phony fumes.
Question: If diesels were price competitive would you buy one?