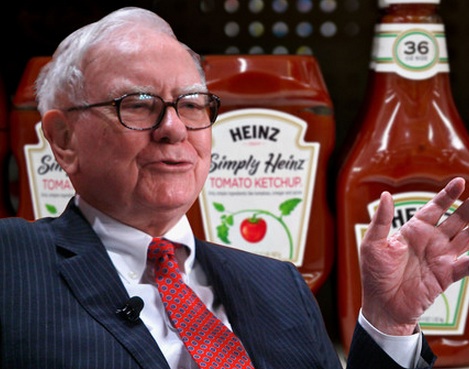 Warren Buffett has been trying to buy Heinz, the king of ketchup, for 33 years. He finally got the deal by partnering with a Brazilian firm named 3G that will do the tough managerial surgery on Heinz, which will make it a cash cow for Buffett's Berkshire Hathaway.
I have studied Warren Buffett's approach to business and I try to apply it to my business and my life.
Make the deal. Play to win.
The Heinz deal was out there for many years, but nobody could figure out a way to make it work at the numbers Heinz's Board demanded. But, Buffett would not give up on the idea of buying the company because it has such a great brand and could throw off a ton of cash if managed well.
Turning around crotchety companies like Heinz is not Berkshire's strength. Enter 3G. They are good at using the hatchet, which by most accounts the old stodgy Heinz needs. If past performance is our guide, the 3G stormtroopers will swoop into Pittsburgh and cut overhead by 30%. Buffett will get a terrific return on his investment and go on to the next big deal like he did with his investment in Goldman Sachs and GE when Wall Street was falling apart in 2008.
Buffett figures out how to make the deal, because he will accept a deal that isn't the perfect deal.
If Heinz had wonderful management, the company would not have been on the block. If Goldman wasn't worried about its survival, it never would have needed Berkshire's cash.
No deal is perfect. Every deal carries risk.
When I buy flawed 40-year-old National Acme Screw Machines I am taking on a myriad of risks that I can assess, if I do my research properly. I am also taking on product liability risk, which is hard to assess, and market risk, which is very unpredictable. But to me, it comes down to MAKE THE DEAL, if it feels right.
Which takes us to the second lesson from Buffett. PLAY TO WIN. If you play to win, rather than play not to lose, you put yourself on the line. You take on extra anxiety.
When my wife Risa was competing in taekwondo she was in the top four in her age division in the competition to become World Champion of her federation. For several years she could not get over the top because she was afraid to "go all out" to win. Finally, after reading Chuck Norris's book The Secret Power Within and overcoming her fear of giving it her all yet still falling short, she was able to get her title in 2002.
In business I am constantly fighting my fear of being wrong, of losing money, of being shown up, of just being dumb. This is the attitude that holds me back – that makes me "play not to lose," which is a good formula for rarely winning.
I think business people must understand that they are in the game to take risk. They must constantly teach their trusted employees that it is ok to be wrong sometimes if they are trying to move themselves and the company forward.
I think most of us struggle with the anxiety of being a loser. We need to find cheerleaders of risk-taking to support us when we take a risk, and when we strike out.
I applaud Buffett for finally making the Heinz deal after 33 years of trying, and accepting the possibility that after all those years of plotting to make it happen, it could still be a stinker.
Question: What in your life has been worth waiting for?