Of all the weeks in the year this is the one I dread the most.
I suffer from post-traumatic stress disorder which was triggered by my almost catastrophic heart attack that occurred 11 years ago this week.  It is also the week that my mother died suddenly in 1993.
I think about the heart attack every day of my life, wondering how I survived, why I survived, and when the final shoe might drop.  I don't try to not think about it, because that only causes me to think about it even more.
The strange thing is that it wasn't all that terrible for me when it happened, because most of the time I was drugged. I had collateral heart circulation developed over 25 years of dedicated running, so even though my most important heart artery was 99% blocked I could still function, if only in a painful and sickly way.  I had trouble breathing and thought I had pneumonia.  My wife, Risa, and I drove 55 minutes August 29, 2008, to see a friend who was an infectious disease doctor, and I walked into his office at the hospital while Risa parked.  He was treating a kid while I waited.  I remember him checking me out in the waiting area, putting a stethoscope on my chest, and saying Lloyd, I'm wheeling you to the emergency room myself.  I remember somebody yelling, "Can I cut his underwear off?" and then nothing.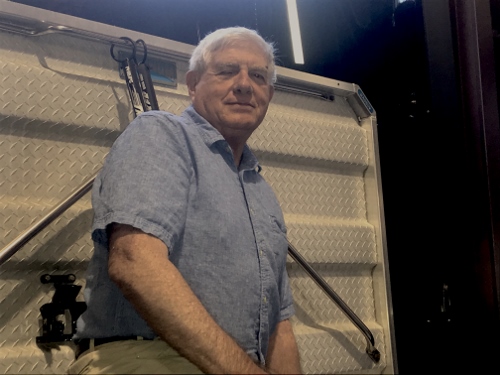 Then the nightmare really started for Risa and my children and many, many people who rushed to the St. Francis Hospital in Evanston to be with her.
Somehow by good fortune that morning a heart surgeon Dr. Muhammed Akbar was available to insert a stent into my blocked artery, known as the "widowmaker."  When asked after the emergency surgery how he did it he simply pointed skyward, Risa recalls.  Without the longshot stent insertion I had virtually no chance of survival.  Bypass surgery at that point was almost certain to fail.  The hope was that I would gain strength over the Labor Day weekend, and they would do a quadruple bypass on Tuesday.
Risa and my children and sister slept in the waiting room for those four nights.  I mostly slept and got stronger.  I was unaware of what was happening.  I wasn't worried, as best I can remember.  They suffered and waited but also had wonderful family togetherness moments.
I strengthened over the long weekend.  I was hooked into tubes and had a mask that prohibited me from speaking.
My family regaled me with songs for 45 minutes before the surgery.  I am sure it helped them and me, but I can't remember the singing.  The only thing I think I can remember is that the Cubs were on the radio, and I heard the score was 9-6 just before I went into surgery, and they cracked my chest open.
The bypass surgery worked amazingly well.  Afterwards, the surgeon said I should be good for 20 years.  I've held on to that comment desperately for the past 11 years.
Now it's 4017 days later, and I'm feeling pretty darn good.  But the event haunts me – every day.  It affects every big decision.  I think about it every time I plan a vacation or blow out birthday candles.  The memory still lingers of being wheeled into emergency surgery and not exactly being terrified, just being in shock and amazement and almost amused about being asked whether I cared if they cut my underwear off.
Will I ever forget that day, those crazy weird moments?  No, unless I lose my memory.
My PTSD is not horrible.  I live my life, often with great joy.  I am not depressed, most of the time.  But I am stuck with that memory tattoo of August 29, 2008.  The day I probably should have died, but didn't.
Question: Do you have post-traumatic stress disorder?