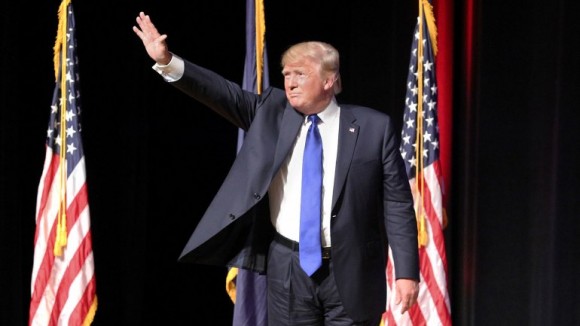 Being a longtime moderate Republican, I am dismayed by the shift of the party's base to an extremely angry conservatism. Trump and Carson have tapped into this base, and most of the umpteen others have jumped in too.
The base is angry. They are angry at terrorists, government, the banking system, immigration, the unequal economy, blue collar and white collar job loss, the rate of technological change, and at social issues like gay marriage, abortion and one-parent families. Finally, many are angry about any infringement of the Second Amendment. This anger is heightened by the 24/7 news media with mostly liberal talking heads blasting them.
Worse, they feel they are becoming powerless to stop or slow these changes.
The Republican Party is at a tipping point. To quote David Brooks, the New York Times house (not very) conservative, "It's (not) any exaggeration to say the next six months will determine the viability of the Republican Party." The demographics (age, ethnicity, metro vs. rural, sexual life style, etc.) of the country are changing and voting patterns will change to favor Democrats.
Brooks says, "Republicans must ask themselves, are we as a party willing to champion the new America that is inexorably rising around us, or are we going to recede in the rear view mirror of an America that is never coming back?"
In his book, America Ascendant, Stanley Greenberg (a Democratic pollster for Clinton, Gore, and Tony Blair among others) answers Brooks' question with a resounding, "Yes, the GOP is near collapse!" And once that happens, the New Democrats will reform government in their image. While I disagree with many of Greenberg's conclusions, there are many nuggets to glean from his extensive polling data.
America is being transformed by revolutionary changes. These changes create opportunity according to Greenberg, "to renew America and make it possible for America to be exceptional again."
America is being fueled by revolutions in energy, immigration, innovation, big data, advanced manufacturing, and growth and change in metro areas. Democrats are aligned with the growing trends, while Republicans are fighting them. The GOP is the party of the oldest, most rural, most religiously observant, mostly married white voters. The GOP is barely considered by Millennials, the secular, the foreign born and people of color. The Party is not competitive in the country's most dynamic growing metro areas.
Energy Revolution
Greenberg's first area of American ascendancy is energy. He rightly points to fracking, 3-D seismic technology and horizontal drilling as having a major impact on our economy and world politics. America's low energy costs are revitalizing energy intensive industries like steel, glass and petrochemicals. Fracking was developed largely in spite of government, not because of it. Along with the energy development, Greenberg also touts many CO2 emission reductions. But much of what he touts never happened. The advances he lauds in his book are merely press releases. The substance is not there. My former employer, BP, was a master at that, and look where they ended up.
Immigration Revolution
Greenberg does get it right on immigration. The best and brightest from all over the world are being educated at American universities, and 70% of the PhDs stay here. Greenberg points out that 25% of U.S. Nobel Prize winners were immigrants. The United States also benefits from unskilled and blue collar labor adding energy and wealth, and value in both services and manufacturing.
Innovation Revolution
Greenberg touts America's innovation revolution. An R&D triad has evolved—industry government and academia. The book focuses on Silicon Valley, but one can include Boston's Route 128 or Raleigh-Durham's Research Triangle Park, as well as many others.
America is once again becoming one of the most productive places for manufacturing in the world. Markets are also doing well. Raw materials are plentiful, energy is cheap, and automation and skills are great. And this is old boring manufacturing. New high-tech from nanotechnology to biotech to artificial intelligence is exploding in the United States like no other place in the world.
Metropolitan and Millennial Revolutions
America's cities and metro areas are now the engines of economic prosperity and social change. There is a return to urban life, away from rural and even suburban life. In cities there is a clustering of immigrants, younger people and the best educated. The radical changes in family, life-style and culture feed on one another to create innovation and drive economic growth. Eighty percent of Americans live in cities and produce 85% of the GDP. In Europe it is about 60%. Both young and older people today are not automatically buying single-family homes in the suburbs, but rather are moving to smaller rental units in the inner city close to public transportation.
Household size is declining, so less space is needed. Single person households will soon equal households made up of families. A large percentage of Millennials (people born between 1981 and 1997) don't even own a car. Zip Cars and Uber are replacing the family car.
Millennials now number 75 million and are equal in size to Baby Boomers. They will make up 40% of eligible voters by 2020. Greenberg expects them to tilt the scale further to the left. However, young people have a habit of growing older and wiser—and more conservative in middle age, so we will see how this shakes out.
Overall, the demographic trends favor the Democrats, and the difference between the parties is expected to grow. Again, to quote Brooks, "Republicans must ask themselves, are we as a party willing to champion the new America that is inexorably rising around us, or are we going to recede in the rear view mirror of an America that is never coming back?"
Question: Donald Trump: Love him or hate him? Why?
Jerry Levine worked for Standard Oil and BP for over 30 years, working as an engineer and lobbyist later in his career. He has written book reviews for TMW for a decade.