Jon Samuelson has three daughters, Bonnie, Karlie and Katie Lou. Two were in the NCAA Basketball Final Four over the weekend. A third started for Stanford and graduated in 2015. How do you end up with your three kids all starting for big time college programs? Start by having them shoot 500 shots every day with Dad checking the numbers and the form.
Jon Samuelson is 52. He played college ball himself at Cal Fullerton and Chapman College. He took his love for the game to England to play European Pro ball and met his wife Karen who was a Netball player, a poor cousin of basketball. The three girls have the b-ball genes and being over 6' tall doesn't hurt. The youngest, Katie Lou, was the most sought after, considered the top high school recruit in the 2015 class. She picked UConn, which had won 111 games in a row before losing to Mississippi State in Saturday night's semi-final.
When I researched the Samuelson family my a priori feeling was that Jon must have been a crazy, autocrat of a father, demanding his girls practice like fiends. This was the picture tennis great Andre Agassi painted of his father who he despised. I have this image of the Indian and Chinese parents who relentlessly drill their kids on spelling words day after day hoping they will win the National Spelling Bee.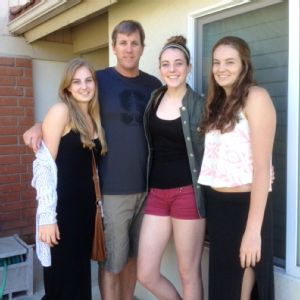 But the Samuelson girls portray a tableau of a loving family of jocks who were in constant search of vacant gyms to practice in. Jon delighted in seeing them surpass his skills, though he still thinks he can beat them at HORSE because he is ambidextrous. They have trouble with their left hands.
*******
It's baseball season again, and I've been bubbling with anticipation. My Cubs are stacked, but it is extremely hard to repeat even if you have a great team.
On paper, the Cubs are superior to last year's team. They are better at catching, possess the best defense in the game, and sport a superior offense with Kyle Schwarber and Willson Contreras who will be playing most of the games in 2017.
But the team has something special that cannot be easily quantified – players with character and leadership. Start with Anthony Rizzo and Jon Lester, both cancer survivors. Rizzo spends at least one day a week at Lurie Children's Hospital, really connecting with kids with cancer. Matt Scczur, an important substitute outfielder, is a bone marrow donor.
Jason Heyward, who signed a huge contract last season and had a disappointing year, held the crucial meeting during the rain delay of the seventh game of the World Series to rally the team to victory. He spent a grueling winter working with special instructors to remake his swing despite being guaranteed $25 million a year.
Heyward also paid out of his own pocket for an upgraded hotel suite for third string catcher, David Ross, last season that could hold his whole family during every road trip. This is something I have never heard of before.
Kris Bryant, last year's National League MVP, beat out his closest friend, Rizzo, for the award. They are such close buddies they had jerseys made up with an amalgamation of their two names, Bryzzo, to wear.
Miguel Montero, the Cubs backup catcher, is tutoring his replacement, Contreras, a fellow Venezuelan. The Cubs also signed John Jay for $8 million to be a utility outfielder and coach his friend and protégé from Miami, Albert Almora, who will start in Center.
This collection of young men is very special. Theo Epstein, Cubs President, understands that you do not just put together an assortment of batting averages and 90-mile per hour sliders. Over a 6-month season, character and chemistry make a tremendous difference when things get tough. Same goes for a business or a Boy Scout troop.
I like the Cubs' chances in 2017 to repeat.
Question: Did you push your kids too hard, not enough, or the right amount?