I have been struggling to write this blog for over a year now, but it is a topic I really want to discuss, because it is so tough. It's also about baseball – sort of.
Luke Heimlich is the best player on the best college baseball team in the country, Oregon State. He is a left-handed pitcher with impeccable stuff. He has lost only once all season. He is 22 and a Senior. He would easily be a first round draft pick at next week's Major League Baseball draft. He would have been a first round pick in 2017 as well, but just before the NCAA Tournament last year, a reporter for a Portland newspaper accidentally discovered that Heimlich had registered as a sex offender at age 15, after pleading guilty to improperly touching his five-year-old niece.
By all accounts his behavior has been as impeccable as his control in the eight years since his guilty plea, which was expunged from his record after five years. He also now denies the incident occurred and says he pled guilty because he thought it would be expedient to avoid a trial with his brother's daughter as the centerpiece.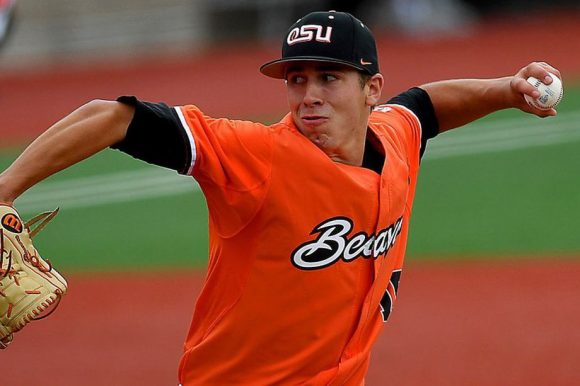 His reasoning was that his record would be cleansed after five years and he could live a normal life according to the recent cover story in Sports Illustrated. But fortunately, or unfortunately, Heimlich, one of six children from a religious family in Washington State, became an incredible athlete and earned a scholarship at the premier college baseball program in the country. When he enrolled at OSU he strictly adhered to the rules of registering in a new state as a sex offender, but evidently nobody in the athletic department checked the criminal files for Heimlich. He had been home-schooled during most of his time growing up. He did not go around campus in Corvallis with a "sex offender" sign on his back. He was just hoping after five years his record would be expunged and the stigma would go away.
I've been wrestling with this case for a year. It was brought to the forefront again with a Sports Illustrated story that covered the issue exhaustively without any clear conclusion or opinion.
Major League Baseball will make its judgement next week.
On the one hand, I think about a teenage boy who may have behaved inappropriately with his niece. She may be affected adversely, though she appears to be thriving now, according to the SI piece. Heimlich's brother, the niece's father, now divorced, is estranged from Luke. I think of my three granddaughters and how I would feel about a similar case involving them. Would I exude forgiveness? I doubt it.
But to me this case is not just about how his family regards Heimlich, but whether a kid who makes a mistake like he may have committed will ever be able to live his dream to become a Major League ballplayer or even just live a regular life. He has been incident free almost eight years now. Can he just be a ballplayer or is he forever condemned? His teammates at Oregon State have seemingly embraced him. Most likely some fans won't.
Should my beloved Chicago Cubs draft him if he is available? I hope so, because I'm sure his talent will be undervalued.
We all have stuff in our past that we are not proud of. Heimlich's issue is darker than most, but should it doom him for the rest of his life?
Question: Can you ever forget if someone is a sex offender?