Last week, on November 21, it was the Fortieth Anniversary of the release of Sylvester Stallone's opus, Rocky. The news brought on a discussion between my dad and me whether Rocky is the best "sports movie" ever. After reflecting on my short list of favorite sports movies—Rocky, Major League, Rudi, and Karate Kid to name a few—I've come to the conclusion that indeed Rocky is my favorite. My dad argues for Bull Durham, which I'll admit is a well-done comedy and romance that celebrates the game of baseball, but I've concluded that film does not follow my criteria for what makes a great "sports movie."
For me, a true sports movie revolves around a team or individual athletes trying to overcome a sporting obstacle, and in so doing, take control of their lives. At the center of a great sports movie there must be an underdog protagonist who inspires audiences to root for them with all their heart. Rocky is the perfect sports movie protagonist. He's poor, he's been discarded by his peers as a waste of talent, he even works as a goon for the local loan shark, Gazzo. Underneath all his superficial shortcomings Rocky has the biggest heart of any athlete I can ever remember in a movie. The pain he overcomes in his training and in his title fights is raw and authentic. When he gets knocked down in the ring and struggles to get up, I feel like I've been struck down and I'm fighting for my life too. When Mickey uses a razor blade to open Rocky's shut swollen eye I cover my own eyes.
The reason I feel Rocky's pain so much and root for him so hard is because I want to see him take control of his life and succeed in his life's passion—it's what we all wish for in our own lives and many don't accomplish, and most people aren't trying to become Heavyweight Champion of the World.
The night before his Title Fight with Apollo Creed, Rocky sits in bed and tells Adrian that his goal is not to win the fight. Even after all his training he still doesn't think he can win. Instead, he states that "all he wants to do is go the distance," to remain standing after 15 rounds with Creed. He says that nobody's ever gone the distance with Creed before, so if he can go the distance with the Champ and do something that has never been done before, he can know for the first time that he's not just a "bum from the neighborhood."
How can a viewer not want to live and die with a character who says that?
*******
By Lloyd Graff

My vote for the best sports movie ever goes to Bull Durham. Rocky was brilliant in its own gut punching way, but Bull Durham was funny, poignant, erotic and smart in one amazing script. Also the acting by Kevin Costner, Tim Robbins and Susan Sarandon is off the charts for chemistry.
The story is about a young, naive, sexed-up pitcher named Ebby Calvin "Nuke" LaLoosh, Tim Robbins, who has a million-dollar arm and a ten-cent brain. He has a 95-mile-per-hour heater that he is apt to throw six feet over the catcher's head. He possesses the talent of a star, but no focus other than on the local ladies.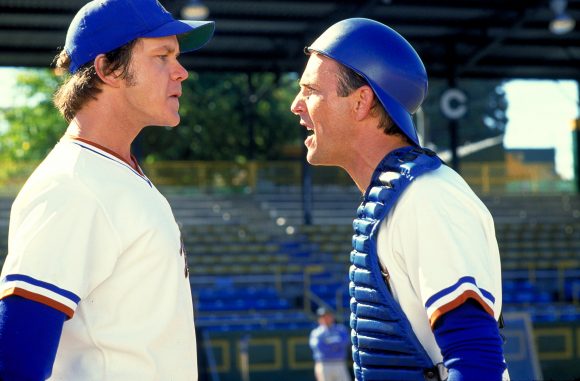 The management of his minor-league team, the Durham (North Carolina) Bulls, brings in "Crash" Davis, Kevin Costner, a veteran of 12 minor league seasons, to tame the wild man LaLoosh, so he can get called up to the Show (the Major Leagues). Crash is a somewhat embittered philosopher catcher. He loves the game but is both resigned and resentful of his position in life. He knows his job is to provide life lessons and baseball knowledge to unworthy phenoms like Nuke, and he hates his fate. But he does it because he's a baseball lifer.
Everything becomes more complicated and fascinating when Annie Savoy, Susan Sarandon, an aging but still attractive baseball groupie, designates Nuke as her Bull boyfriend for the season. Then Crash crashes the party and falls for Annie. She's sexually attracted to Robbins' young character, and the creator of the movie, Ron Shelton, makes it a playful, purely physical relationship. Ironically, the movie was the beginning of a 23-year marriage between Sarandon and Robbins, who had two children together. Crash's job for the Bulls is to mature Nuke and teach him how to pitch, but he is angry and resentful, and his lust for Annie constantly gnaws at him.
I find the movie endlessly entertaining, even after seeing it 10 times. The characters are funny; the dialogue is witty and sarcastic, both underplayed and over the top.
The characters are profane yet also very kind and human. I think Crash's soliloquies about "never messing with a streak" and that after 12 years in the Minors, he "doesn't try out" as a lover, are as good as it gets in American movies.
Rocky is Stallone's masterpiece. Bull Durham is an even better movie.
Question: What are your favorite sports movies?
Clip from Rocky – "All I want to do is go the distance"

Clip from Bull Durham: On the Mound Convention