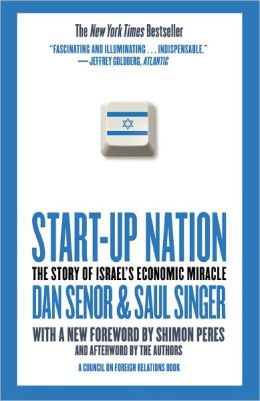 How can Israel — a country of only 7 million, with no natural resources, enemies on every border, and in a constant state of war, produce more start up companies then Japan, India, Korea, Canada, and the UK? In Start-up Nation Dan Senor and Saul Singer describe how Israel's adversity-driven culture does it — how they foster their unique combination of innovation and entrepreneurial spirit.
The short, partial answer is: Israelis put chutzpah first! But more in-depth: their policies on immigration, R&D, and military service have spurred the country's rise. For the US and others there has never been a better time to look at this remarkable and resilient country for some impressive and surprising lessons.
Israel is most noted for its high-tech developments, and ties to the likes of Google, Intel, Microsoft, and Cisco; but their real start began 80-100 years ago in the low tech battle against the desert. In 1869 the "tourist," Mark Twain, described the area as a desolate land — infertile and lacking water. But this infertile land eventually yielded to invention and technology, and more and more is now covered with agricultural fields and forests. Over two hundred and fifty million trees have been planted.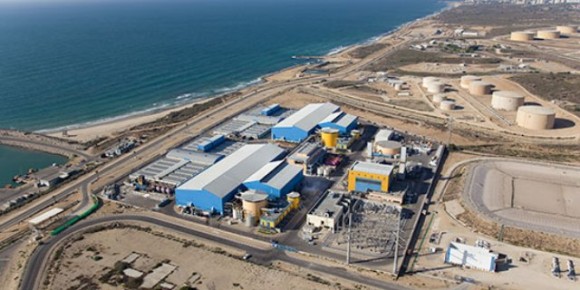 It started with smart water management. The first great innovation was trickle irrigation combined with water recycle and desalination. These techniques have now grown worldwide. On a recent trip to Ecuador, I was impressed to visit a huge rose farm with big signs out front indicating that it was operating on Israeli irrigation technology. Israel also leads the world in recycling of waste water; over 70% is recycled which is three times the percentage recycled in Spain, the second leading country.
When water wells were drilled in the desert, the water came up warm and salty — bad for irrigation, but ideal for fish farming! That technology has spread to the US Midwest, home to several huge talapia farms. In Israel they are called St. Peters fish. Here they are called talapia — different names for different markets, but the same technology and the same fish.
Not only was the environment hostile, so were their so-called friends and neighbors. Facetiously, the two real fathers of Israeli high-tech were the Arab Boycott and Charles DeGaulle. They forced the need for secure home-grown industry. Israel's industry developed out of Israeli traits of tenacity, constant  questioning of authority, determined informality, and unique attitudes toward failure, teamwork, mission, and cross-disciplinary creativity.
Many Israeli start-ups fail, but their attitude is to bring failed entrepreneurs back into the system, use their experience and try again. By contrast, in the Far East, loss of face inhibits risk taking. This is not an Israeli characteristic.
Israelis, in addition to their unique attitude toward failure, constantly question authority. Their focus is on the mission, and their stress is on teamwork and cross disciplinary creativity. The authors relate a story at Intel where there was a great internal debate about the future of chip design. The Israeli workers argued for a different direction from their US supervisors. The Israelis persevered, and moved the company in a totally new, but winning direction. To the Israelis the fight wasn't about winning the battle inside Intel, rather it was about winning the war outside, against the competition. This story epitomizes so many US union/management fights, where the union's adversary is their management. Obviously, the focus for both sides ought to be uniting to win the war over the competition. But this doesn't always happen.
Collaborative behavior comes from the military training, which essentially all Israelis — male and female alike — undertake. The Israeli Defense Force (IDF) stresses a downward delegation of authority. The army has very few colonels and an abundance of lieutenants. The ratio of senior officers to combat troops in the IDF is 1 to 9. In the US army, it is 1 to 5. This culture generates more maturity and better judgement at lower levels of the organization. The authors doubt there is any other country in the world where the creative types all have done (and continue to do) national service. When hiring, Israeli businesses still look for private sector experience, but the crucial metric is the applicant's military service — what unit was he or she with.
The authors draw an analogy to the 1967 Six Day War where the combined militaries of Egypt, Jordan and Syria (probably 10 times the size of Israel) boasted they were about to destroy Israel and drive all the Jews into the sea. At that time Israel did not have strong world-wide support. President Johnson counselled against a preemptive strike. He suggested they wait to be attacked first, and suffer some losses to garner world sympathy. Israel told the President "no," struck first, destroyed the Egyptian air force on the ground, and won the war.
So, what is the answer? What makes Israel so innovative and entrepreneurial? The conclusion is a set of contradictions: 1) aggressiveness yet team orientation, 2) isolation yet connectedness, and 3) being small yet aiming big. Also, it's OK to try and fail. Success is better, but failure is not a stigma.
Many worry that Silicon Valley may be losing its creative mojo. I don't know if that's true, but I suspect managements worldwide are studying the Israeli model for guidance.
Question: Do you have faith that Obama can make a good deal with Iran on nuclear weapons?