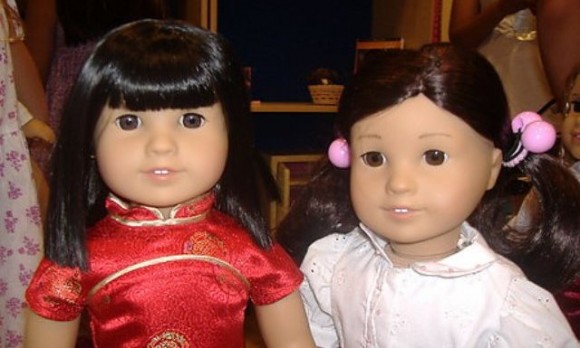 My oldest granddaughter Eliana celebrated her 9th birthday Monday, and her grandmothers splurged on an American Girl doll for her present. She and her sisters love these dolls and they have a small family of them accumulated from several birthdays.
I am fascinated by the success of the doll company, started by Pleasant Rowland in 1986 on a shoestring, an idea and a bit of a lie. She sold her company, called Pleasant Company, to Mattel (owner of Barbie™) in 1998 for $700 million cash.
I have enormous respect for Rowland as a marketer. She built a brand based on history, wholesomeness, and quality that has endured and grown hugely under Mattel's management. But she fudged the story about the genesis of the doll in her early catalogues. In Rowland's story of the American Girl Doll, she writes that "deep in the basement of a small museum lies a tattered, water-stained doll trunk. Open the dusty lid and the long-ago childhood of some lucky girl comes instantly to life. Tucked gently inside a beautiful porcelain doll – dearly loved and much played with. I discovered this trunk by chance more than a year after I had begun working on the American Girl Collection. It served as a powerful reminder of why I had begun the collection, and what I hoped it would accomplish."
However, the story written around this doll and its image is false. The doll was purchased for Sybil Hanks (born 1908) by her parents and named Nancy Hanks. She was kept in pristine condition and never played with before being donated to the Wisconsin Historical Society in 1966 along with Hanks' entire collection. When Rowland put the doll in the catalogue, it was placed by a water stained trunk to convey a "well-played with" image.
Rowland's story stretched the truth a little, but don't we all in business and in life? Haven't we all said "you look mahvelous!" to a friend who needed a boost, even if they looked pallid and frazzled.
When is stretching the truth a "lie" and when is it just smart marketing or saying the right thing at that moment?
I listened to a fascinating TED talk recently on this subject by Dan Ariely, the brilliant social scientist and commentator. His topic was '"cheating" and "stealing" not just lying.' His point is that we tolerate and even accept a lie if it is perceived not to hurt other people and is believed to be a "small one." Telling a friend that they "look mahvelous" is probably not going to offend anybody but the most sensitive sourpuss.
But how about Patience Rowland's little lie to the parents of 8-year-old girls? Did she violate the sense of honesty and purity she meant to convey in her doll creations by dramatizing a fiction to the parents and grandparents who were shelling out a paycheck for dolls and doll clothes dedicated to a purified image of wholesomeness?
I am in the "who cares?" category. We love our stories and myths. They bring meaning and depth to our humdrum lives. My beloved granddaughter Eliana cherishes her dolls and their families. She gobbles up the books about the imagined stories of her doll figures and embellishes her dolls with her own version of their biographies.
The purists who begrudge Patience Rowland her fortune because she saw gold in a romanticized doll story and executed her vision to perfection miss the point. Myths, even made of little lies, are the stuff of life. My Dad and I used to joke around that all our dirty oily screw machines were used by "a little old lady on Sunday." If we ever found a pristine National Acme that had been sitting in government storage for 25 years, we would call it a "little old lady machine" and laugh.
Stretching the truth. Indulging a little lie. It's business.
And "you look mahvelous" too!
Question: Is lying a sin?