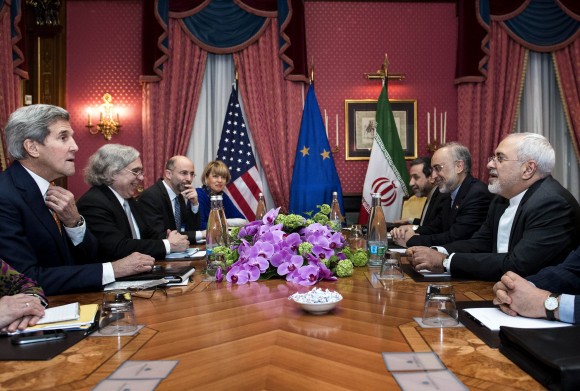 Seldom have I struggled with a political and emotional issue like I am with the Iran nuclear deal. My gut tells me to be against it, because Benjamin Netanyahu of Israel is so adamantly opposed to it.
My dislike of Obama and John Kerry also pulls me to oppose it, but my sense of the deal, intellectually, is that it is a net plus for the world. I think that Iran would have developed a nuclear bomb capability eventually if they wanted to do it, and there really was no way to stop them. Sanctions punished them over the last few years, but ultimately they would make a bomb.
Obama came to this conclusion five years ago and pushed to get what he thought was the best deal possible. I don't know if the 10-15 year delay in Iran's bomb program will permanently stop them from becoming a nuclear power, but Iran has a young and fairly well educated population and there is hope for regime change. So I am siding with taking a chance on the deal, because the other options appear worse. Bombing Iran does not seem like it will work. Defeating the treaty will not mean we will get meaningful sanctions on Iran because the Russians, Chinese and Germans will not go along.
Could Obama have done better with Iran? Probably, but I do not really know. At this point, with what I know, I am reluctantly for OK'ing the deal.
******
The self-driving car seems to be moving ever closer. The three German car behemoths, Volkswagon, BMW and Daimler, just bought Nokia's mapping software for $3 billion, which they will share. This is a strong signal that they are in the race to be early with an autonomous vehicle but do not want to be at the mercy of a Google or Apple who are investing heavily in what appears to be the next REALLY BIG thing. Google is already building its own cars for testing. You see them all over Palo Alto and Mountain View. When Elon Musk was struggling to keep Tesla Motors afloat four years ago, he almost took his friend Larry Page's offer of $5 billion plus assumption of debt for the company, but an all out sales effort by Tesla employees averted the sale.
Google doesn't need Tesla to develop its car, but with Sergei Brin, Page's co-founder now directly in charge of the autonomous car project it's clear to me that Google is going to be a big player in the next phase of the automotive world. It scared the Europeans and should scare Detroit.
Uber also made a strong bid for the Nokia mapping software. They must have seen the autonomous car as a logical extension of their freelance taxi business that is valued at $50 billion by the private funding market.
I would imagine UPS, Fed Ex, and Amazon are all watching and investing in the area so they will not be left behind. I think we will see a product on the market before 2020.
*****
The oil and gas market is fascinating to watch these days. Contrary to what the pundits predicted the rig count is not going down, despite the U.S. oil price having fallen to around $40 per barrel. Evidently, the frackers have become so efficient and their wells so productive that $40 is still a price that is profitable. The Saudis keep pumping because their cost is $4 a barrel and they don't want Iran to take market share.
Meanwhile, the refiners are raking in the dough because there is a limited capacity in America and they always schedule shutdowns to keep a lid on shipments to the gas stations. Refiners have traditionally been the least profitable part of the supply chain, but every dog has its day, and this is theirs.
*****
Where has the summer gone? Business has been cold, but my Cubs have been hot. Football coaches are scolding their players, and who cares if Ohio State has three quarterbacks who can play in the pros? Politics has been ridiculous with Donald Trump looking almost like a potential candidate next to the Republican assortment of wallflowers and Hilary Clinton struggling to move to her left while the press bruises her up about her Internet behavior. I don't think Hilary will again blow the Democratic nomination, but she did it once to Barack Obama so you never know. Give her hell, Bernie.
Question: Are you for or against Obama's deal with Iran?