Today I am celebrating the 16th anniversary of Today's Machining World. I have learned a lot about the writing business and myself by doing this thing that you are reading now. Please indulge me as I share my thoughts about it.
I started the online prototype of TMW, then called Screw Machine World, in 1999 in full hubris, coming off the lush business years of the 1990s. I was full of confidence about the future and was sure that I could make the nascent Internet-only publication a success because of my creativity and brilliance. I hired a cocky young assistant to help me.
After a few months of publishing exclusively on the Web I realized we were way ahead of our time. Also we were hacked incessantly and probably being read by 13 people on a good day.
I decided to convert it to a print publication, coming out every other month. I wrote an Editors Note, a lengthy "Swarf" column, often a long interview piece, and an Afterthought column on the back page. Screw Machine World had my imprint all over it, and honestly, I am extremely proud of the work in those issues published in the first three years.
In 2003, I had my first retinal detachment, which was the beginning of seven eye surgeries over two years. I lost much of my vision in my right eye and had a tear in my left retina, which fortunately only required a minor procedure.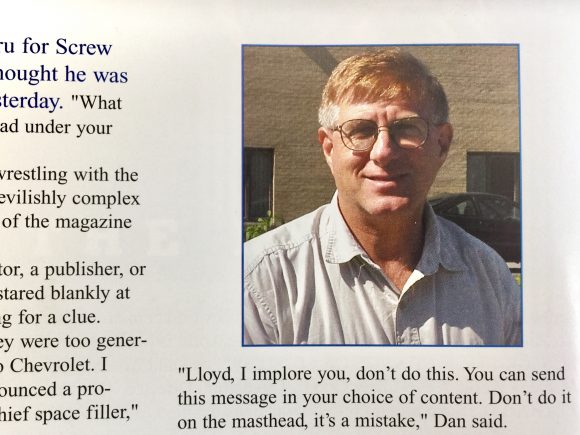 I was in my late 50s then, and my sense of invulnerability was certainly shaken. The September 11th catastrophe and a 2003 recession didn't make things easier. Prostate surgery in 2004 that included a Code Blue because my heart malfunctioned should have alerted me to future cardiac problems, but I wouldn't accept that notion.
By 2004 my brother and business partner, Jim Graff, was getting tired of the losses from the magazine, which by that time had been renamed Today's Machining World, and asked me to segregate the publication from our machinery business and buy out his ownership. This was good judgment on his part because printing and distribution costs were killing us, even though the publication was an artistic success.
In 2008 I had my terrible heart attack, which I have written about ad nauseam, and the wicked recession that almost sunk the country hit. However I decided to come back to work later that year and continue with TMW. By 2010 my son Noah was working in both Graff-Pinkert and TMW, and Jim and I were ready to go our separate ways.
Undoubtedly, my time and commitment to Today's Machining World contributed to the breakup. Jim and I are competitors in the machinery business now, but any early bitterness has worn away.
In 2011, at Noah's urging, we became online-only, focusing on the Swarfblog. Noah asked me what I wanted to do with TMW. I said, "I just want to write. If advertisers want to stay, great, if they don't we will continue it anyway." I was ready to let Managing Editor Emily Halgrimson go, but she convinced me that she could take care of the business and online side of things and make me money, so I gave her a shot and cut her back to part-time. For the first time TMW became profitable. In the past four years, it has made more money each year.
I've learned a lot during this 16-year publishing odyssey.
I started the magazine because I had "this writing thing" I had to work out. I knew I had a "gift" of making business, everyday life, sports and just about anything come alive in words. I could simplify and tell stories, and I wasn't afraid to expose myself. I wasn't fearful about trying stuff and being dumb occasionally.
As I've gotten older I have seen Noah find his own voice and excel as a writer. When I was teetering between life and death in 2008 the only piece of property that I explicitly discussed with my wife Risa was Today's Machining World. I wanted it to go to Noah. Everything else would be handled by my will, but TMW was special, I guess.
During the first dozen years of the magazine I thought about it as a business and obsessed about it as a business. Now I do not obsess over the bottom line. I do the magazine because I love it, and now it makes money.
I think there is a big lesson there, and I'm trying to apply it at Graff-Pinkert. If you cut the overhead enough to be able to do what you are particularly good at, and you do not have to worry very much about covering expenses, you will be happier and probably more successful.
Over the years, TMW has become a yardstick of my creativity and mental acuity. I do not want to do Swarfblog if I'm going to write it like a PR handout. If it's not great, why do it? I hope you feel the same way about it.
Question: Are there any TMW pieces that have stuck with you over the years?