By Russell Ethridge
I like baseball. I'm not one of those folks who keep box scores or who can tell you offhand a pitcher's earned run average, but I enjoy the subtleties of the game and the tension that builds in the park in the bottom of the ninth with the winning run at the plate. If only I could watch it from my $39 seats! My complaint isn't about the sight lines or an obstructed view. I usually score lower deck seats just outside the first base line that provide a great view of the infield and the action at first. But unless I'm near the front rows, I can't see much of the game because of the constant parade of people up and down the aisles who apparently can't sit in their seats for more than a few minutes before deciding they need some other form of stimulation to stave off the boredom of what is admittedly a slow paced event. I'm not complaining about the people I stand up for who are leaving my row, although they are part of the problem. Their obstruction is temporary and brief. But if you're next to an aisle that runs between you and the action, watching the game is like trying to look at a sandlot game through a picket fence as you drive by, only you're sitting still and the fence is the constant stream of humanity looking for another beer or in today's parks more sushi.
Baseball IS slow, and Major League Baseball struggles to think of ways to speed it up. There are long moments of no action followed by bursts of activity which, even if you miss them, are captured for replay on large screens. Who needs to pay attention? You hear the roar and look up at the big screen that probably provides a better view anyway. "Let's get something to eat" you say to your date, and maybe you have another 16 ounce $10 beer that will inevitably find its way through your urinary tract resulting in yet another trip up and down the aisle. Multiply these three or four trips by the number of people sitting in seats below you and you've got a river of humanity between you and the action. Just looking at a ballpark reminds me of the physics phenomenon called Brownian motion that describes the constant movement of all molecules. No one can sit still unless, of course, they have a smart phone. If the game can't keep people in their seats, at least their phones do.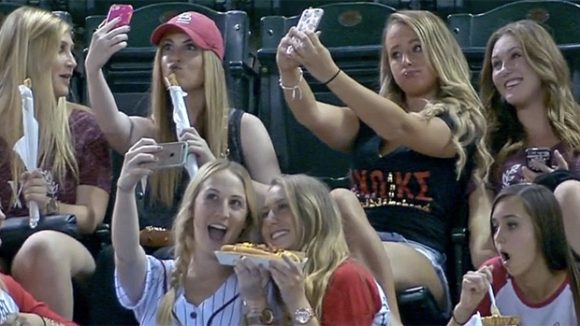 When you have the distraction of a smart phone, you're less inclined to entertain yourself by shopping and dining on the concourse. Instead, you can miss the action by taking selfies and communicating with people who you MUST share the immediate moment of the game you paid to watch. But then you totally miss important moments because you are screwing around with your phone. Next time you watch a baseball game on TV, just look at the crowd behind home plate. At least half the folks have their heads in their phones. I don't care if those people want to spend their time and the price of admission playing with their phones. At least they're sitting still with their heads down.
Hockey, at least in Detroit, has addressed the stream of humanity issue. Those arriving late or returning from the concourse with beers and a pizza are held at the top of the aisle until there is a stoppage in play. In addition, since the venues are generally smaller and the aisles steeper, the site lines are usually more direct and less subject to obstruction. I'm not sure such a policy would work at a baseball game, but I'd like to see something done to reduce the traffic up and down the aisles. One friend says it is never a problem for him at Comerica Park because he has upper deck club seats with catered food, a bar, his own restroom, and a living area with multiple TVs where his guests can watch the game just like from home. I guess for the tens of thousands of dollars you pay for a suite, you get to have all your friends watch the game on TV in a place that is not your living room and where other people prepared your food. Another friend says it isn't a problem for him because he's in the upper deck cheap seats where the crowd is less dense (unless we're playing Boston or Cleveland) and the people can't afford the exorbitant food and beer prices.
The institution of baseball has done many things to remain relevant in an age where we have the attention spans of gnats. Interleague play, big replay screens, giveaways, and historical figures or giant sausages racing around the bases all attempt to keep us entertained. When I go to a sporting event, however, it is because I want to see a game, not a circus, and baseball owners need to remember not to continually distract or obstruct us.
Question: Do you prefer your sports on TV or at the Stadium?
Russell Ethridge is a prominent attorney in the Detroit area and longtime contributor to Today's Machining World.