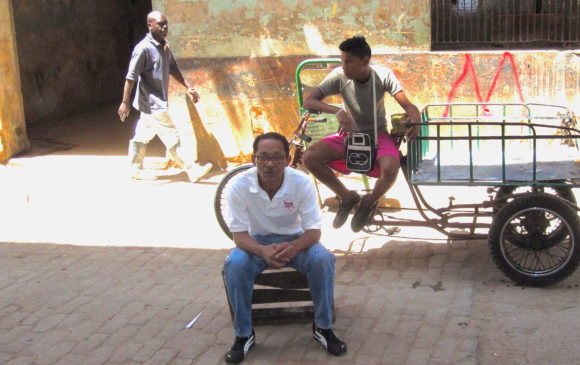 In January, I vacationed in a Latin American country. I won't name the country out of respect for a few friends who were offended by me singling out people from their nation.
My trip was wonderful. I went to the beach, danced a lot of salsa and most importantly got to know a lot of the native people. I found the people there intelligent, outgoing and warm, but the more time I spent with them I noticed a distinct trait — they were very "talented at doing nothing." As I walked the streets, I often saw many people standing outside their doors simply watching time go by. Maybe they were playing dominoes or making small talk with each other, but other than that — nothing. When I use the word "talented" to describe this trait, I'm not saying it entirely tongue and cheek. "Doing nothing" truly is a skill — a skill that I am poor at.
My intention is not to accuse the people of this country or any other Latin American countries of being lazy and unproductive. Maybe many people there are lazy and have no ambition. Perhaps they have no money to participate in stimulating activities. That's not my point. Sitting around, not doing much of anything is the cultural norm over there, and the more time I spent with the locals, the more culture shock I experienced.
I stayed the first two days of the trip with some friends who ran a bed and breakfast in a sleepy beach town. I was aching to go see some tourist sites, go to the beach, or even just go for a run. But I also wanted to spend time with my friends, and they mostly just wanted to sit around the house. I had no cell phone, no Internet access, no TV and my Spanish is slow and mediocre, which made conversation an effort — although at times a fun challenge. I felt awkward in the idleness. I felt frustrated because I was squandering my precious vacation time to "do stuff." But then I forced myself to relax to some extent and go with the molasses-like flow. I realized that "doing nothing" was an important part of truly experiencing their culture, so I stopped fighting it.
I think most Americans have trouble doing nothing. For me, stimuli from either work or entertainment are a constant consumption, on par with water. If I'm alone at a restaurant, if I'm waiting for a bus, if I'm in the bathroom, I'm probably reading something — a newspaper, my computer, my phone. In the car, 99 percent of the time I'm listening to an audio book or music. After work, I usually go work out, then do some work or watch TV. In this scenario, I am classifying watching TV as "doing something," because the native people on my vacation seldom watched TV.
After spending 11 days with virtually no Internet, newspapers, or TV, I feel slightly more patient with mundane, empty time. Only slightly more patient, but at least I'm aware of the constant stimulation I crave and take for granted.
Question: Could you be happy without TV and Internet?