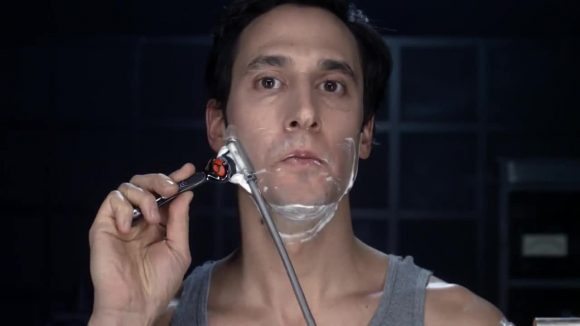 I recently discovered that I was out of cartridges for my Gillette 5-blade razor (the Fusion). I hopped over to the local Walgreens to buy a new package.
It was an ugly experience. The Gillette cartridges were locked up, requiring a buyer to hunt for a salesperson to come over to unlock the booty. Then I had to figure out which razor blade model I owned and whether I wanted to fork over $25 for four precious 5-blade cartridges in one over-wrapped package.
Gillette, now a division of Proctor & Gamble, has been developing high-tech razors and blades over the last decade which last longer but make shaving more expensive. Its advertising has flogged the high-tech blades, mercilessly extolling the wonderful experience of shaving while dulling one of the great American brands by being greedy and dumb as the market for their products was starting to shift.
As men and women get older they tend to shave less often. Younger men and women are hairier these days with the disheveled look in vogue.
One indicator is how few Major League Baseball players are clean shaven. Beards are in. Just look at Jake Arrietta and Clayton Kershaw, the best pitchers in the game, and Bryce Harper, the top position player.
The other wild card that Gillette did not expect is the dollar shave club phenomenon. Many men are choosing mail order low tech blades that offer a less expensive monthly bill and fresh blades daily. They have eliminated the distasteful trip to Walgreens or Target to unlock the precious cartridges from the store safe. You would think they were illicit goods like original Sudafed.
Gillette razor blades are one of many iconic products that got too fat as cash cows of obese conglomerates like P&G. I doubt the old independent entrepreneurial Gillette of Boston would have locked themselves into overpriced high-tech blades that shavers are starting to reject in droves.
Gillette is not the only once revered label that consumers are starting to hate. The mattress market is also shifting quickly.
A few years ago beds and mattresses were mostly sold in department stores and furniture emporiums. Brands like Sealy, Simmons and Beautyrest dominated. The big names gradually merged together looking to monopolize the market and keep the price high for traditional spring products.
But they were blindsided by memory foam mattresses which were cheaper to make and better to sleep on. Independent chains popped up almost overnight to sell the new foam products and accessories. Then Internet sales, boosted by media campaigns challenged brick and mortar. Today the mattress market is fragmented and competitive.
The beer and booze market have also seen both consolidation and a challenge from independents. The behemoths still dominate with enormous advertising budgets and control of the vital distribution, but craft beers have a growing audience for young buyers and independent vodka and whiskey makers are proliferating.
The latest challenge to a regulated monopoly is in the hearing aid business. Audiologists and doctors have pretty much sewn up the high end market for hearing devices. The average hearing aid costs $2,000 to $3000 including visits to the professionals. A company called Etymotic Research has developed an in-ear amplifier to be sold over the counter, which they call the Bean. The cheapest model retails for $299. So far the FDA has protected the incumbents like Siemens and Sonova which control 95% of the $5 billion world wide market. The Bean can currently be sold only for "recreational" use (hunting and birding). But the White House is now pressuring the FDA to give Etymotic's products a hard look. I foresee this tightly controlled business as a prime target for entrepreneurial attack. The over-the-counter hearing aid will be in Walgreens and Target soon—I predict 2016 or 2017.
Fat monopolies are still vulnerable to humble entrepreneurs in America. May it always be so.
Questions: Do you have a mattress that you love?
Have you tried the Bean?