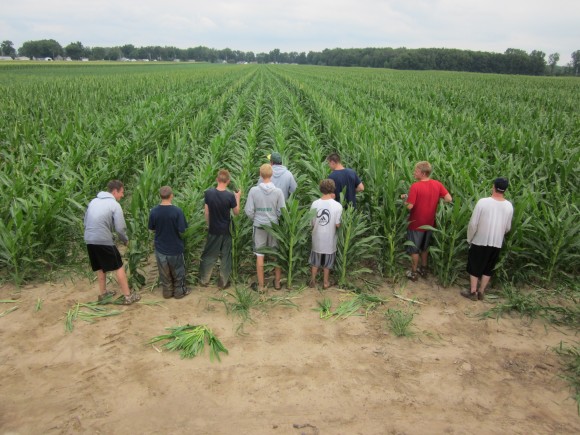 Summer jobs for younger people used to be common and highly desirable. Twenty years ago almost two thirds of high school kids found paid summer work. Today the statistics say only one out of three hold summer jobs.
Many factors have contributed to this fading away of summer employment. Unions are blamed for vetoing non-union hires in some plants and offices. Minimum wage increases make summer hires less attractive because employers have to pay inexperienced people more than they deem them to be worth. Wealthier parents often push their kids to volunteer or take enrichment courses or summer school makeups to help kids get into selective colleges. Physical challenges like Outward Bound trips are seen as character building exercises.
But the old fashioned summer job, like unloading a Pepsi truck or testing urine in a lab, or cleaning filthy machines, can be a character builder with a lot of value, especially for young people who have lived in relatively sheltered environments.
I remember my first summer job, when I was 16 years old. I put a $6 ad in the Chicago Tribune classifieds, under "situations wanted."
I advertised that I had writing and journalism skills, which was accurate, even if it was for the sports department at the high school paper.
Amazingly, I got a call from a man named Hadley who owned a bulletin board publication called the Civil Service News and was trying to build a magazine named "Midwest Ports."
He interviewed me at his office in downtown Chicago in the building next to the Schubert Theater, a live performance venue near State and Madison. I guess I passed inspection, because he hired me.
The job was an education for me, but not for the journalism. Hadley was a curmudgeon who had a drinking issue. He wore sunglasses in his office. I soon realized that "Midwest Ports" was a boring magazine that nobody was going to read, but the Civil Service News was a sought after rag that people coveted because it carried all the fresh job openings.
Things went quite well for about a month and then suddenly, without notice, Hadley fired me. He gave me no explanation. He just said, "kid, you're fired, get out of here."
I was aghast and perplexed. I asked the secretary bookkeeper who had befriended me in the office, what I had done wrong. She motioned for me to leave the office and go down to Wimpy's restaurant on the first floor where she met me a few minutes later.
She told me point blank that Hadley had found out I was Jewish (how, I don't know) and fired me "because he hates Jews".
This was 1961, and I was 16, and my cool summer job was over. Boom.
I had made a few bucks, enjoyed the excitement of taking the Illinois Central train into downtown Chicago, and got a dose of anti-Semitism that I had only known about from my parents' occasional stories.
I think that kids who don't do summer jobs, no matter how menial or nasty, miss out on something important. They need to learn how to navigate the work world with its rigors and nasty folks. For the elite kids headed to fancy colleges it is a chance to work with the people they may have to fire one day in a managerial position. It's part of the critical seasoning process everybody needs to be successful.
Despite it's rude ending, I cherish that first summer job.
Question: What was your most memorable summer job?