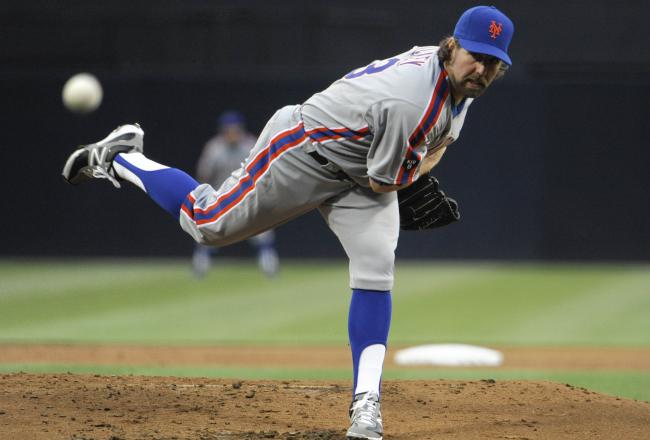 The Toronto Blue Jays, also-rans for more than a decade, are now the most interesting team in Major League Baseball. They clearly made the decision to go all out to win the pennant this year while competing in the same division as the New York Yankees, Boston Red Sox and Tampa Bay Rays, teams which have been in the elite for many years.
With the acquisition of R.A. Dickey, the National League Cy Young winner of 2012, Toronto has six proven starters, which makes them an immediate contender.
But this is not really a baseball blog today. The intriguing question for me is, why now for Toronto? Why, after settling for mediocrity for a decade, do they decide to finally go "all-in"? This is really a business question that I grapple with all the time. When do you play it safe, stay satisfied with "okay," try for singles, and when do you swing for the fences, knowing you are more likely to strike out?
Today, in Major League Baseball it is convenient and lucrative to be mediocre. Miami has clearly chosen to be wealthy and crummy for the moment by trading away its expensive stars. Because of national TV and the MLB branded merchandise they have $100 million coming in while fielding an awful team. Sounds like the great Mel Brooks film, The Producers, where Zero Mostel and Gene Wilder try to gather up the money from "little old lady" investors and then produce a terrible Broadway flop.
In the machining business today, you can struggle along, make your salary, fund your 401K and hang around. It isn't easy, but if you survived 2009, you are probably doing okay today.
The question most business people face going into 2013, with automotive continuing to improve in North America, the oil and gas business in a long term gigantic expansion, China declining as a business stealer, construction waking up, and Silicon Valley driving innovation in the world, is whether to just be happy for surviving the "decade of despair" or to be like the Toronto Blue Jays.
I readily admit that this is a very hard decision. Looking back to 2001, I see a lot of disappointment and carnage. Business has been so damn hard. We have the rise of China, two wars taxing the country, the housing bubble, pathetic partisan politics, an aging workforce not easily replaced, shell shocked lenders–all strong headwinds.
But as I head into 2013, I ask myself why I shouldn't be like the sassy Blue Jays who are tired of being just slightly better than the Orioles. Tired of being a .500 team, win some, lose some. If not now – when?
As you look at your own situation I think it is the appropriate time to ask yourself the question. Is this the best you can do? Do you want to start your own business? Do you want a better job and are you willing to risk giving up the one you have? Are you ready to bet on yourself and your team? Are you ready to test your dream?
For the first time in six years, I am hearing my peers in the machining world start placing bigger bets. Not a lot of them, but I am seeing it, and it seems to be older guys taking their shots, contrary to popular wisdom about baby boomers retiring.
The news of Washington and Wall Street is mostly negative right now. The National media is still in recession mode. But the Toronto Blue Jays, perennial also-rans of the American League, are saying, "This is our time." If not now, when? How about you?
Question: Is 2013 the year to play it safe?

Lloyd Graff is Owner and Chief Space-Filler for Today's Machining World, and Owner and Chief Space-Filler of used machine tool firm Graff-Pinkert & Co.