It's the American Horatio Alger story. Invent the next Xerox machine and get rich. Or get screwed.
Dan Brown was a smart Irish kid from the south side of Chicago. His Dad wanted him to learn a trade and become a plumber, so he took all of the shop courses in high school. His Mom thought he was a really intelligent kid who should go to college, and had him on a college prep track.
He ultimately went to St. Xavier College (now university) majoring in biology and chemistry, falling short of his goal to go to medical school. Dan never lost his father's knack of a handyman, or the appreciation of those trade skills, he naturally combined them with his science education. After college, Dan ended up in the chemicals and plastics industry where he created the first of his now 40 US Patents, pioneering some new processing technology and gaining valuable business experience, Dan started his own product design consultancy in 1991.
One day in 2002, his son Dan Jr. was attempting to work on the lawnmower with a pair of pliers. Dan Sr. saw the danger in that endeavour and father and son bickered over the proper tool selection for the job. There really was no good tool for the job. Dan, the inventor, set out to make a gripping device that would be better than a wrench or pliers for this kind of ornery everyday task that flummoxes the home fix-it person.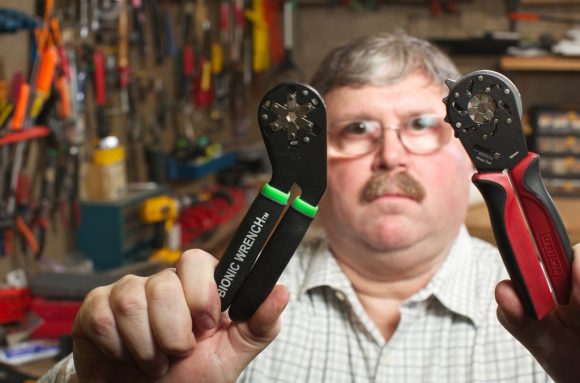 Dan, with his product design expertise, developed his Bionic Wrench to do those jobs. He was sophisticated enough to create strong intellectual property, and go to the expense of nailing down solid patents for his clever device. He found a solid American stamping house, Penn United, to build the product and began selling in specialty niches, proving the merit and viability of the tool.
Dan believed his real opportunity to establish the brand was to market with television supported advertising and shopping channels like QVC. He found difficulty breaking into the big box retailers who focused primarily on low cost products sourced in China. Dan's vision for his new invention was a "Made in America" business model, a very challenging task in the hand tool market.
The Bionic Wrench, developed by Loggerhead Tools and completely built in America, was ready for Prime Time in 2005. It won the Popular Mechanics new product design award and among many other design and innovation awards. It launched at the end of 2005, having its first success with a Direct Response TV (DRTV) campaign at Canadian Tire, Canada's retail giant in 2006. However, like many other businesses, LoggerHead was hit hard by the recession, which had derailed most all start-ups in its path, not to mention quite a few existing businesses.
Emerging from the recession, his son Dan Jr. had started working full time in the business. In 2009, LoggerHead started working with Sears, and after two years of trial orders, LoggerHead had its first DRTV test with Sears at Christmas 2011. The product was a resounding success, selling out before Christmas and outselling all other tools in its category. The Bionic Wrench was the most profitable product of the category and the best seller as an American Made product, proving the concept and business model.
Dan's dream became nightmare the next year, after a solid 2011 Christmas for the wrench. Sears and its Craftsman brand went after the $19.99 highly giftable product in 2012, debuting their own knockoff. Sears and Craftsman contracted with Apex Tools Group, a billion dollar division of Bain Capital, to make the Bionic Wrench's clone in China. But Dan Brown was not going to let this happen without a fight, he successfully organized a legal team and sued both Sears and Apex for willful patent infringement of the patented Bionic Wrench.
Sears and Apex hired law firms to defend them, Kirkland & Ellis LLP, and Winston & Shrawn LLP. Kirkland is the second largest law firm in the country, and Winston isn't far behind. This was no typical David and Goliath battle, this was a David versus two Goliath battle. In this type of case, patent owners only can get justice if they have the millions needed to get to court. This is virtually impossible for start-ups, and large corporations know this, giving rise to a practice known as efficient infringement.
In cases like the Brown's, when a knockoff appears, it can quickly destroy a company, and in this case the proven American Made business model. Inventors must seek a source for financing a multimillion-dollar lawsuit to protect their business, while at the same time competing against their own technology in the form of a low cost knockoff in the marketplace.
Faced with this paradox of enforcing his property rights, the inventor has the nearly impossible financial quest of having to organize this legal battle against the infringers; in a system where you only can get the justice you can afford to pay for, a literal contradiction of your rights.
But the Browns partnered with Paul Skiermont, of Dallas based Skiermont Derby LLP, and his legal team, who took the case on an alternative fee basis. Skiermont believed in the Browns and their intellectual property, gambling his time and efforts on getting a piece of the final judgment if LoggerHead proved its claims.
Sears and Apex are multi-billion dollar companies who know that small guys don't have the money or the guts to take them on. The Browns were the rarity because they refused to give up and be cannibalized by a knockoff of their own design and patents in the marketplace. The Skiermont Derby team went to battle with the Goliaths who had knocked off the Bionic Wrench.
After four years and a two-week courtroom battle in the U.S. District Court of Judge Rebecca Pallmeyer, on May 11, 2017 the jury awarded a $6 million judgment to LoggerHead Tools for patent infringement. The next day the same jury heard arguments for willfulness and again ruled in LoggerHead's favor on "willful infringement" by both Sears and Apex Tool Group. It is now in the hands of the judge, who can punitively award as much as triple the damages with that willfulness verdict to LoggerHead.
The Browns are thrilled with their win, but Sears and Apex will likely appeal, as these legal battles often extend on for years. An individual inventor faces a brutal gauntlet of legal and competitive hurdles to successfully bring a product to market and sustain a business. As a society, we need to be supporting, nurturing and protecting these American job creators, but as seen in the LoggerHead case, this is far from the reality.
Like many of those Southside Irish baby boomers, Dan Brown was the first in his family to go to college. And although he never did become a plumber like his dad wanted, or get to medical school as his mother dreamed, ironically he did recently become a doctor (PhD), successfully defending his doctoral thesis just ten days after the trial ended.
It is not impossible for a savvy tough-minded pair of Chicago south side Irish guys to win and survive, but it sure ain't easy, even for a "bionic" team.
Question: What have you invented?