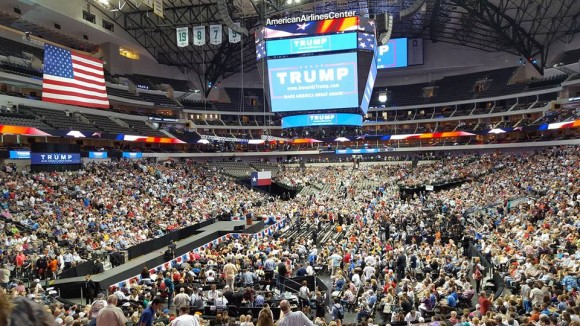 I must admit I am totally into the 2016 election. The ascent of Donald Trump is so stunning, so horrifying, but also so wonderfully amazing that I cannot get enough of it.
Trump is narcissistic, incredibly egotistical, yet instinctively brilliant in his ability to connect with the American psyche.
Somehow Trump gets it. This rich, womanizing boor, vain to the nth degree, has figured out America and the dissatisfaction and anger that rightfully fills the country.
Frankly, I didn't get it until very recently when I read an absolutely brilliant op-ed article called Why Trump Now? by Thomas Edsall in The New York Times. Edsall chronicled the devastating changes in America over the last 45 years. This has been the length of my business career. Yet I missed the big picture that a disgusting head case named Trump picked up on while I lounged in consensus ignorance.
A few highlights of Edsall's piece. Adjusted for inflation, average wages per hour in the U.S. have gone up from $19.18 to $20.67 since 1964. While this number is somewhat deceptive because of advances like the Internet, cleaner air and the Roomba, it is still stunning.
Edsall states that since the year 2000 the middle class has shrunk while the number of households with incomes of $35,000 or less have grown. This has coincided with the huge growth of trade with China since its entry into the World Trade Organization in 2001. Chinese trade has not worked well for the American worker. The theory had been that the growth of China would be a two-way street. We would get cheaper goods, China would join the family of wealthy and peaceful nations. American workers would gravitate to sophisticated higher paying jobs in aerospace, medical, pharma, computers and robotics. But the theory has not worked. China has generally prospered but American workers have not transitioned quickly to the juicy high-tech economy. There are many reasons why U.S. workers have fared poorly—lousy government policies, easy access to illicit drugs, miserable public education for poor people, slowly receding racism, corruption in government, business and organized labor—you can count the ways.
Politics has failed us. The end of the Cold War did not bring a peace dividend. The military has drained resources, government debt has ballooned because politicians have sold out to inertia and the contributions of shrewd lobbyists.
In 2008 we had the Wall Street fueled collapse, which devastated millions of people in America, yet Wall Street rebounded quickly with Federal Government aid. A helpless and corrupt Washington could not see a better way out of the perilous mess than throwing a TARP over it.
Somehow Donald J. Trump understood in his gut what the political establishment, despite the growth of the Tea Party, did not comprehend. And on the left, Bernie Sanders saw very much the same thing. American workers were hurting, small business was suffering, students and young people saw a fuzzy and dismal future, and Washington's answer was an indecisive intellectual Obama whose single accomplishment in office was a flawed health care system that many working class and richer Americans saw as an enormous transfer of wealth to poorer citizens and especially African Americans. All this set up a crazy opportunity for Donald Trump to step into an angry void in the predominantly White Republican Party.
The other candidates did not feel the anger and the opportunity, but Trump and Bernie got it. Hillary Clinton may ultimately get the Democratic nomination because she can skillfully glom onto the Black and Latino vote, but she doesn't really tune into the anger in the country like Sanders and Trump.
Donald J. Trump, with his hair, his insults, his mocking vulgarity makes me nauseous. But he's funny in a Don Rickles way. I'm attracted and repelled by the man, almost simultaneously, but his outrageousness is exciting. His unpredictability is also refreshing compared to a scripted Ted Cruz, and a Marco Rubio who seems too small for the job he covets. Trump has an instinctive knack that all bullies have of finding the character flaws of their adversaries. He picks on Rubio for sweating under pressure and calls Mitt Romney "a choke artist" for not campaigning the last month of the 2012 campaign. Trump is an awful human being. His character flaws are HUGE, but wow is he entertaining, like a sarcastic comedian!
I feel like I am finally in tune with the misery of the electorate and that's why I am feeling the magnetism of Donald Trump, "Teflon Don," who can seemingly get away with saying anything, no matter how outrageous.
I think Trump may well be our next President. I am frightened, but weirdly looking forward to the show. America wants to push the reset button.
Question: Are you depressed about America?