Homeless people spook me. I hate it when somebody wearing a sign proclaiming their homelessness, holding a cup and looking forlorn, shoves the cup toward me begging for coins. Yet their plight, if they really are homeless, is a terrible thing.
It struck me hard recently when Noah and I were driving to a business conference in the city concerning hundreds of thousands of dollars' worth of unsold screw machines.  We drove by a tiny makeshift shelter covered by a couple of blue tarps next to an apartment building which appeared empty and possibly being prepared for demolition in an area in the process of "gentrification" in Chicago.
It was a raw day in November ahead of Thanksgiving.   I saw nobody around it.  The blowing tarps were a more hurtful reminder of the misery of life on the street without a roof to call your own.
It brought to mind a story my friend Jerry Levine had told me at one of our weekly Saturday breakfast idea fests recently.  Jerry had volunteered to help kids at a Chicago high school several years ago.  One of the kids who was a star student had a problem giving an address of his residence.  The reason was that he was sleeping in a dumpster.  We have a dumpster at Graff-Pinkert.  Occasionally I haul a plastic bag of office garbage out to the dumpster.  Every time I look inside I think of that poor kid climbing inside and probably covering up and trying to keep warm with a blue tarp he hid away.
By the way, Jerry said the kid ended up getting a full scholarship to a prestigious college, somehow.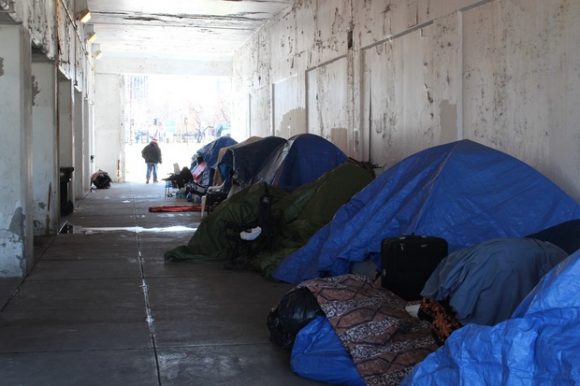 For many years I volunteered at a local homeless shelter.  It rotated among various churches and synagogues in the neighborhood I lived in.  I came in at 5:15 a.m. and helped clean and put the mats away the shelter people slept on, gave out toothpaste and Band-Aids, and cleaned up after breakfast was served.  It was a good education for me, that homeless guys (there were only guys at this shelter) were mostly just human beings who were at a down part of their lives.  Some had jobs (fast food joints, car washes, guards), but usually the jobs didn't last long enough to enable them to get an apartment that required deposits and credit checks.  Many had drug and drinking problems.  A lot of them hung around the local White Castle or McDonald's till they were urged to move along.  A few had cars; some of the younger guys rode bikes. I once hired one of the friendlier men, but he did not last long because of a chronic drinking issue.
The rotating homeless shelter no longer exists at the local synagogue.  My friend Jerry Levine and other local people somehow managed a minor miracle.  They found a mayor in the area who, rather than avoid a permanent shelter in his town, embraced the idea.  He claimed his mother on her deathbed told him to do it.  There was an unloved piece of real estate that the mayor obtained for granting zoning privileges to a developer who wanted to build a shopping center in the village.  The three-acre piece was far enough away from neighbors that nobody yelled much.  Jerry and friends with government connections got every grant the government had on the books and built a $18-million multi-story building for homeless people with good credentials to get nice temporary apartments.
Someday I hope the poor people under the blue tarps in Chicago or kids like the one living in the dumpster find their way out to that beautiful haven in Country Club Hills, Illinois, within walking distance of my office.
Question: Do you prefer to give money to people on the street or to an organized charity?