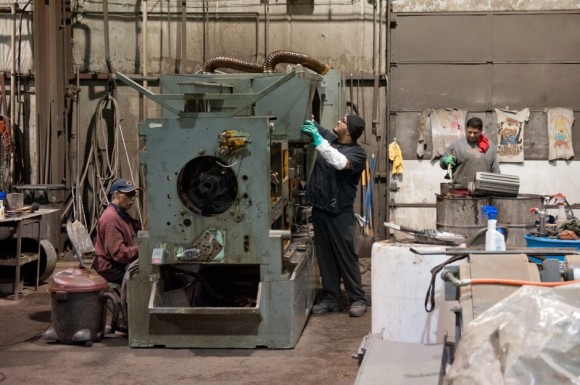 These last several months have been a struggle for me to find workers for the cleaning and painting department of our used machinery business, Graff-Pinkert. You might think, with so many millions of Americans unemployed or underemployed, it should be quite easy to find manual laborers who want to make $11 per hour with the chance to get on the company health insurance plan worth $5 per hour more, plus virtually guaranteed overtime pay and a year-end bonus.
But it isn't.
I'd like to share my recent experience.
First of all, few women apply for the cleaning and painting jobs. Seemingly, they self-select because the advertising indicates it is a fairly dirty environment to work in, with dirt, grease, oil and chips. In retrospect, I find this a bit surprising and regrettable, because women are moving into all kinds of jobs formerly the exclusive domain of men.
So we mainly have guys to choose from.
During the summer we found a college senior from the University of Illinois, we'll call him Fabio, who was majoring in Statistics. He was small in stature but savvy and industrious. He caught on immediately to the job and applied himself with a happy attitude. He was a keeper. I noticed it immediately when I asked for a volunteer to prepare our raised tomato garden for planting the vines, a yearly ritual at Graff-Pinkert. He immediately volunteered, which enabled him to work directly with me for a few hours. Fabio understood work was a social enterprise and a physical effort. Without the ability to get along with co-workers and supervisors you do not last, even in a manual labor job.
Unfortunately, Fabio left for college at the end of August and his replacements paled by comparison.
The first failure was hired via Craigslist. We'll call him Frank. A little guy, he seemed eager for a job. He was 19, a high school graduate living with his grandfather in the area. He seemed shy in the interview. A check for arrests was clean, and I decided to try him on our fledging night shift. I also hired an 18-year-old, Dick, who was in a program at the local community college to prepare kids for joining the workforce. The counselor at the college said he was a good kid, that he was hardworking and "tested off the charts" for technical aptitude. He told me he aspired to be an electrician.
Our nightshift foreman quickly reported problems. Frank disappeared for lengthy bathroom breaks. The foreman also noticed doors were open or unlocked when he was quite sure they had been locked by the first shift group. A few nights into Frank's short stint at Graff-Pinkert several guys that our foreman called "gangbangers" invaded the parking lot at 11:00 pm to meet Frank when he was leaving work. Our foreman was extremely scared and locked himself in the lunchroom until they left. He reported this event to me the next day. A few days later we discovered that $700 of petty cash from the office was missing.
I could not prove Frank took the money, but I suspected enough to fire him immediately.
Dick, the other kid who had "tested off the charts" was another problem child. He retreated into his phone constantly, was almost totally incommunicative to co-workers, and appeared oblivious to his surroundings. His co-workers saw him as a slacker and constantly complained that he wasn't doing his share. He also had become chummy with Frank prior to his firing.
In my opinion this kid suffered from being socially ill equipped for a workplace. I felt a little badly that we did nothing to prepare him for the job, but I did not have the inclination to coddle him when his peers had completely rejected him.
Meanwhile, we had hired a temp though an agency who was older and street savvy. He knew he had a good gig and he applied himself, making himself valuable on the shop floor. He did not look like our other employees, with his hair in dreadlocks, but he earned their respect with diligence and following directions. I hesitated to hire him full-time because of health insurance costs, but the temp agency's weekly charge virtually matched the cost of the health plan.
I also had considered hiring an older guy who seemed intelligent and pleasant, but his 60 extra pounds scared me for such a tough job.
Then, out of the blue, Derrick came along. He had a "big personality" and was completing a course to get a commercial driver's license. His job pitch appealed to the sympathy factor. He said he was out of work and virtually destitute. He seemed eager and strong so I gave him a chance.
He was great for the first week, then he started to get into arguments with the other men on the floor. He demanded "equality with radio time," to listen to gospel music, not a good idea for a guy in his second week. He approached me to buy a semi-truck for the company, which he would drive. He started slacking off in the plant and taking long bathroom breaks, while making a grandiose effort to ingratiate himself to me. Our guys hated him. I fired him and received a soliloquy about how he would be out on the street.
I have a better idea about the workforce after these encounters. I respect Starbucks' ability to hire and train kids, and pick them skillfully. Seemingly, we do not have the knack.
I see now why so many young men slip through the cracks in the workplace. They do not understand the demands of work, and bosses have little time and inclination to teach people what it means to work.
Question: How can we do better at hiring and firing?