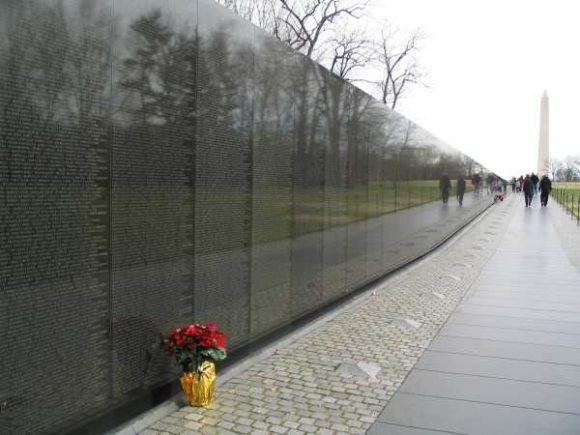 It's Memorial Day 2014 as I write this piece, and for most people it's a day of barbecues and softball games. For me, it's still about Vietnam and memories.
And I didn't even go.
Vietnam was my war. My horror.
And I didn't even go.
But my friends and classmates went. Some died there or in the skies over Laos. I check for their names when I visit the stunning Vietnam War Memorial in Washington.
I do not apologize for not going to war. I signed up for the Illinois National Guard. I knew somebody who knew somebody who knew somebody and moved up on the Guard waiting list, though I would have gotten into the Army Reserves without the connections.
It was a crazy time 1967-68. Dan Rather was announcing the weekly casualty figures on the CBS Evening News, seemingly every night. The country was divided over the War. Young people were volunteering, demonstrating, moving to Canada. Some were paralyzed, ambivalent or numbed from drugs or booze.
I was pretty sure I was going to die in Nam if I got sent there, so I was committed to not getting sent there.
My war was spent at Fort Jackson in Columbia, South Carolina – 137 days of green uniforms, crappy food, getting in shape, and dealing with psychological warfare from a belligerent shrimp of a drill sergeant who was determined to make the life of the one Guardsman in a company of 300 men as miserable as he could.
After bootcamp, the rest of my six-year Guard commitment was spent writing lesson plans for training that was never given and two week stints in the summer at Camp McCoy, Wisconsin, pretending to fire Howitzers.
The Vietnam War came to an ignominious end with 58,000 Americans dead, including some of those good guys I trained with at Fort Jackson, along with many, many wounded veterans.
I think of those guys every Memorial Day. I don't do the parades and I'm no pacifist, but I don't want to glorify war.
I saw that the President, in his perfectly tailored bomber jacket, snuck into Bagram Air Force Base in Afghanistan yesterday to congratulate himself on winding down the war there.
My wife recently got a communication from a sweet young guy who joined the Marine Corps and was just shipped to Afghanistan. She had helped him pass the test to get into the Corps.
Jack, just be safe over there. Don't be a hero. Get back healthy. I don't want to have to think about you on Memorial Day.
Question:  Would you encourage military service for your child, sibling or friend?