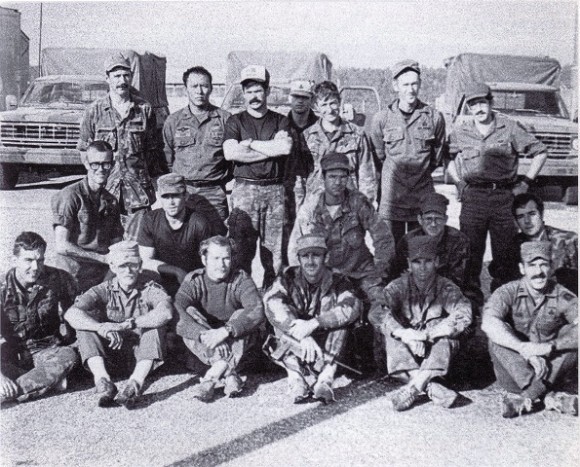 While the U.S. government has been interrogating the CIA this week for the organization's own controversial interrogation practices on suspected terrorists, I reflect on how our country's perspective on terrorism has morphed over the last 13 years since September 11, 2001. The "War on Terror" is a term that many Americans have grown numb to as we encounter it on such a regular basis, whether it be in the real news or watching our favorite primetime shows. But of course, the United States has been officially at war with terrorism for decades, and the evolution of this war has been complicated and fascinating.
I just finished listening to Inside Delta Force by Eric Haney. Haney was an original founding member of Delta Force in 1978, the first U.S. Special Forces unit specifically devoted to international terrorism conflicts. Although today Delta Force isn't a truly secret unit, as it was when it was first formed, it has managed to stay out of the limelight, aside from the 1980s Chuck Norris movies. The Pentagon refuses to comment publicly on Delta Force's highly secretive activities, and Delta operators almost always wear street clothes, and have civilian hairstyles and facial hair to remain undercover.
I am wowed by the sophistication of Delta Force verses the traditional military forces that preceded it. In 1977, Colonel Charles Beckwith created Delta Force because he saw a need for an elite Special Forces unit that specialized in fighting international terrorism. He sought to create a unit resembling the British Special Air Service (SAS), in which he had served as an exchange officer in 1962. There had never been a U.S. Special Force like it up until then, but Beckwith convinced the U.S. army of his correct prediction, that terrorism would be huge threat around the world in the not so distant future.
In the first tryouts for Delta Force, only Eric Haney and 11 other men were accepted out of 163 other elite soldiers invited to Fort Bragg from around the world. That 7% acceptance rate was the highest ever for Delta Force tryouts.
The tryout process put the soldiers through the wringer both physically and psychologically. It finally culminated in a 40 mile solo course, which took the soldiers off main paths and roads with minuscule navigation assistance. No soldier was allowed to help a comrade in any of the tryout challenges. The Army has almost always relied upon structured orders and working in teams, but the Delta tryouts are designed to test soldiers' abilities to work autonomously, without plans set up ahead of time by superior officers. One of the unique characteristics of Delta Force versus other military forces is that the small teams of operators participating in a mission are the ones who plan the mission. This enables Delta Force operators to plan missions in which they believe they can succeed. According to Haney, the Delta Force operator is still the only fighter who can be sent out alone or in small teams in extremely difficult conditions with limited or no guidance. (This version of the book was published in 2005)
In training the Delta Force operators, Colonel Beckwith's philosophy also broke with Army tradition by utilizing experts from resources outside the Army. For instance, it used CIA field agents to instruct on trade craft (espionage) in hostile territories, the Secret Service for its expertise on sniping, and even consulted incarcerated expert thieves to teach soldiers such techniques as lock-picking and hot-wiring cars.
One of the specialties of Delta Force is hijacked airplane rescues, so its operators consult commercial airlines to study every model of aircraft available. Interestingly, Haney recounted that Delta Airlines was always the most cooperative and helpful airline during his time in Delta Force.
In the book, Haney describes some of his successful missions and disastrous ones, such as the attempted Iran hostage rescue. When Delta Force is not tasked with rescues or espionage, its operators are often used to protect American embassies in the most dangerous locations or to train foreign armies when it suits American interests. Haney did much of his service in the 1980s in hot zones such as Beirut and Latin American countries. In the book, he sometimes questions the motives of some of his missions in Latin America, where Delta's purpose was to aid despotic regimes to squelch revolutionary guerrillas.
Politics and wars will always be messy. Despite our powerful media, U.S. citizens still don't know what's really going on behind the scenes — for better or worse. But at least we can feel confident that we have some of the most talented trained people defending us.
Questions:
Does torture bother you?
Are we winning the War on Terror?