A few months ago I was at the Bucktown Art Fair in Chicago where I met an artist/entrepreneur from Tennessee named Clay Bush. Bush uses old seat belts he scavenges from junkyards to make stylish bags, including laptop bags, backpacks, purses and bike messenger bags. He also uses seat belts to create wallets and upholstered furniture. He makes waterproof inserts for the bags out of used airbags, also from the junkyard, to hold cellphones and laptops. The buckles on the bags are the metal seatbelt buckles from GM and Ford cars from the '80s and '90s. He told me that the cars from the '80s and '90s usually have the seat belts in the best condition because often the passengers back then didn't even use them.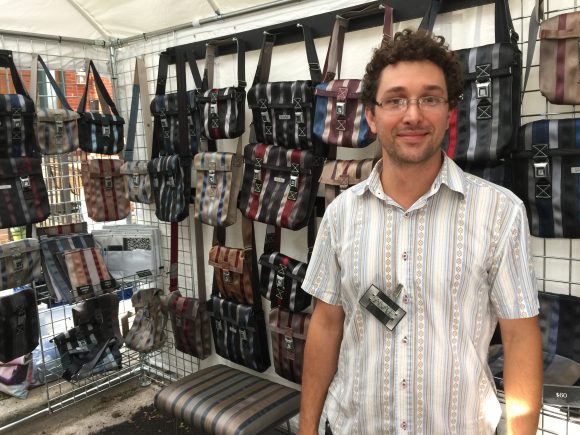 The bags look stylish and seem durable but that's not that special to me. To me what's special about these bags is the organic human spirit that is inside each one of them. Their raw materials—used seat belts and airbags—are salvaged from discarded cars. A car—one of the main places where we Americans spend our time. Then Clay—a real person—hand picks each seatbelt and hauls them in a big duffle bag to his workshop. He designs the bags himself and physically sews them together—himself. Every bag has Bush's touch. Funny how the origin of an item with such human touch comes from such a mass-produced one, a car.
Since 2012 Bush has made his living selling the bags at art fairs around the United States and online. Bag prices range from $150 for the smallest bags to $250 for laptop bags. Appropriately the name of his company is Salvage Goods. You can find Bush's works at his Website: http://salvagegoodstn.com.
Question: Have you ever re-purposed something old into something really cool?
Clay Bush Talks About His Bags Made of Seat Belts