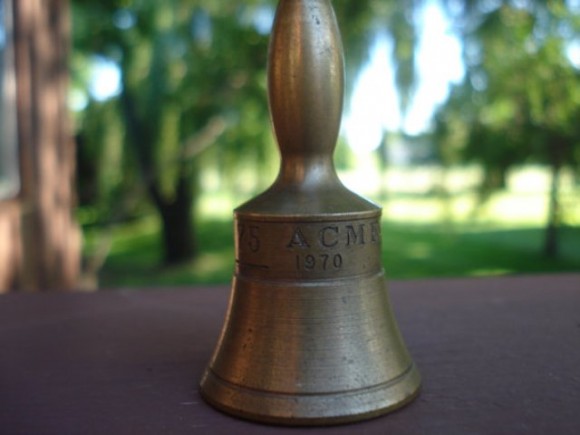 Where have all the souvenirs gone?
I find it ironic that we seemingly hacve a collectibles boom, with TV shows like Pickers and Antique Road Show, but if you go to a tool show like IMTS or the PMPA April extravaganza you leave with nary a keepsake that is worthy of a shelf in your office or a chest in the attic.
I was reminded of the value of a souvenir twice this past week. I went to a wedding in New Jersey and took a 20-year-old t-shirt to wear at the family lake house where the wedding took place. The shirt had been artfully designed for a Bar Mitzvah of twin brothers in the same extended family in 1995. It had a family tree on the back of the shirt.
It seemed like all the people at the wedding wanted to inspect the t-shirt and recollect the occasion 20 years earlier on Long Island. I love the shirt, and I wear it frequently to exercise in. It was a 50% polyester 50% cotton garment and it has easily withstood hundreds of washings without fading or tearing. This shirt passes many tests. It has family significance because of the family tree on the back and the celebration of the occasion on the front. It is useful, and it is remarkably durable. Very few keepsakes pass so many tests.
The second souvenir that popped into memory this week was the brass bell machined by a National Acme Screw Machine at the 1970 International Machine Tool Show.
Jeff Kovalenko of Elkhart, Indiana, sent me a photo of the Acme staff who worked that show, which included his father. The title of the email was Tintinnabulation, which referred to the brass bell, complete with the dinger. The word "tintinnabulation" was used in an Edgar Allen Poe poem, and means the sustained ring made by a bell.
I remember that show only because of the National Acme exhibit and the beautiful brass bell, with the National Acme inscription.
The bell was the perfect intersection of engineering, art and execution. It was also the perfect keepsake. The bells still come up on eBay from time to time. My brother Jim has a collection of them that he cherishes.
I ask you, where are the cool souvenirs these days? Is everybody so bottom line driven that they are afraid to give away anything of value at a show? It seems odd that a company will spend a million bucks at IMTS but not a nickel on a memorable reminder.
I think it is less about tight-fisted bean counters and more about creativity. It's hard to come up with an idea like a bell with a brass dinger and then convince a bunch of engineers and sales people it is worth the effort to pull it off.
I'd like to hear about keepsakes that you value, like a home run ball you caught at Yankee Stadium or a beer mug you brought back from Vienna. Maybe it's a cap from Army Basic Training, or a piece of shrapnel from Iraq. Why do you care about it so much? Is it in your will to go to someone else?
My son Ari has his comic books from childhood stashed away at our house. I know a guy who has kept a 2 5/8″ Conomatic, virtually unused, out of the Atchison caves. He hasn't used it more than three months. That is one big old souvenir.
Question: What do you keep?