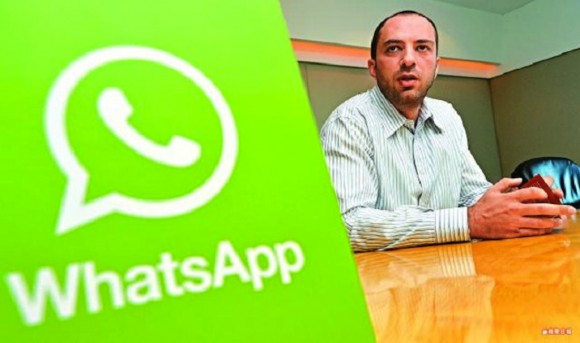 Connecting the dots …
Jan Koum, an immigrant from Kiev, Ukraine, sells his five-year-old company, WhatsApp, for $19 billion to Facebook. Ukrainian people overthrow Viktor Yanukovych, a corrupt dictator allied with Russia and Vladimir Putin. Democrats make income inequality and minimum wage law reset into campaign issues. Republicans put immigration change off the table for internal political reasons going into 2014 elections. Luxury buses traveling from San Francisco to Silicon Valley become a political issue. Vivek Ranadivé becomes lead buyer of the Sacramento Kings NBA franchise.
Jan Koum came to the U.S. in 1992 as a 16-year-old with his mother and grandmother with no money. They settled in Mountain View, California, in a tiny apartment paid for by a Jewish philanthropic group in the Bay Area, set up to help Jews leaving anti-Semitic Russia and Ukraine. A few years earlier, Sergey Brin, co-founder of Google, had come to America for similar reasons. His father had been kicked out of his university teaching job because he became a Jewish Refusenik in Moscow.
Koum's mother eventually fell ill with cancer and the family had to survive on food stamps. Koum developed a passionate interest in computer programming and attended San Jose State University. He then got a job at Yahoo!. He left Yahoo! in 2007 with his friend, Brian Acton, and went traveling for a year, playing a lot of Ultimate Frisbee and thinking about a new company to start. He had friends and family spread across the world in Ukraine, Israel and South America. He saw an opportunity to create WhatsApp, a cheap messaging app that would be difficult to trace and insure privacy for people in places like Russia and Ukraine.
Facebook announced it was purchasing WhatsApp for $19 billion on February 19. The app was reportedly used by many people in Kiev during the rebellion that culminated in Yanukovych leaving office last Friday.
When Jan Koum was looking for venture capital, he connected with Jim Goetz of Sequoia Capital, which put up the money for early development. They often met at Red Rock Coffee in Mountain View, around the corner from the government office that helped sustain Koum's family with food stamps. The baristas that served him were making $10 an hour, but if they were working for primarily tips, the minimum wage was $2.31 per hour. The controversy over raising the minimum wage and the bigger argument over the gulf between the rich and poor and the rich and middle class in America is sowing the seeds of a national sense of resentment. The minimum wage is all over the map. For a disabled person working in a sheltered workshop it is $2.50 per hour. It is $4.76 per hour for tuna canners in American Samoa. The minimum wage in 1968 is worth $9.40 today, and the $5 per day that Henry Ford instituted in 1913 is the equivalent of $14.71 per hour today.
Personally, I think the country would be better served with a $10 minimum wage, though we would see fewer fruit pickers and maybe higher priced fries at McDonalds. Perhaps there would be fewer workers, too. I doubt it would do much one way or the other for employees at Starbucks and Red Rock Coffee.
We hear the Republicans cannot get their act together to pass immigration reform because it might hurt Mitch McConnell in his re-election bid in Kentucky. A guy like Mark Zuckerberg will give big money to Chris Christie and Corey Booker, a Republican and a Democrat, because immigration and education reform brings in people like Koum from Ukraine, the family of Zuckerberg's wife, the Chans, from Vietnam, and the vast talent needed to fuel Silicon Valley firms like Facebook. The Republicans lost the Presidential election in 2012 because Mitt Romney stupidly alienated immigrants and received 29 percent of the Latino vote. When will they ever learn?
Meanwhile, the Googles and Apples and Intels are running luxury busses from San Francisco to Silicon Valley to bring in the folks who no longer can afford to live in Koum's Mountain View, but not to bring busboys and floor sweepers making low wages. It is symptomatic of the economic divide that includes the war veterans of Iraq and Afghanistan, who often come back with few marketable skills. Jan Koum's firm, WhatsApp, has 55 employees. He doesn't need busses, yet.
The Ukraine and India seem like exotic, faraway places. But if you go to Silicon Valley, you see a place filled with a lot of people who have struggled to come there, whether they are the Jews who lucked out of Ukraine and Russia, Mexicans doing the tough jobs others put up their noses at, or the intellectual elite of India who seek a place where their smarts will be rewarded, such as Vivek Ranadivé. Ranadivé came to the U.S. with $100, talked himself into MIT, and today is the majority owner of the Sacramento Kings NBA franchise.
The people of Ukraine want a chance. Today they know WhatsApp in the world.
Question: Would a $10 minimum wage have a positive effect on your business?