It's November 6, and I'm sitting at Starbucks writing this piece, across from the polling place I chose not to vote at in 2018.
For over 50 years I have voted at every opportunity. I've voted for Republicans, Democrats, Independents and Idiots. But this year I'm not going to be an idiot and participate in an exercise that does nothing positive for me or my community and wastes almost two hours of my precious day.
In my America of 2018 the political system has evolved into a fat duopoly (a dual monopoly) of parties that vie for the spoils from the willing masses who lemmingly abet them.
Maybe I would feel differently if I had just one actual race where I felt my vote would matter, but in my Chicago south suburb of Olympia Fields this year the political institutions, Democrats, Republications and a cynical press have totally turned me off. For Illinois Governor I have two centimillionaires who have been throwing dirt at each other for six months. Bruce Rauner, the Republican, has been an impotent failure trying to move an utterly recalcitrant legislature. J.B. Pritzker, the Democrat who inherited a real estate fortune, seemingly has done very little in his life except "live large"—in his case 300 pounds worth. For my choice for Congress I have none. Robin Kelly, a pleasant lady and Democrat who I wouldn't recognize if she was standing in front of me at Starbucks, is unopposed. She is a professional unknown, perfect for my locale which elected Jesse Jackson Jr. for a decade before she inherited the job.
I have come to see our National and Illinois political scene as a well-orchestrated charade game played by the insiders of both political parties. It appears they do hate one another, and they fight hard for the right to collect the spoils of power.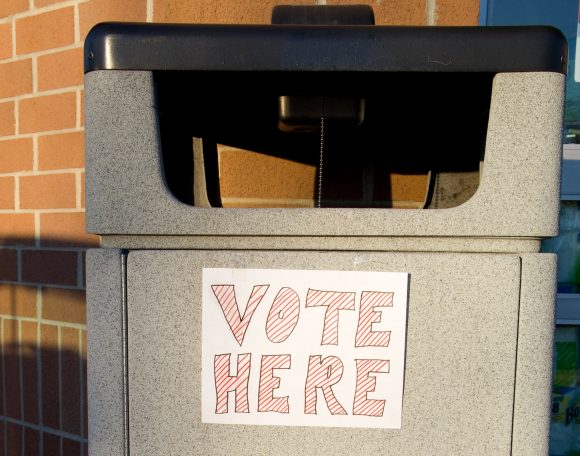 The lobbyists will pay greater tribute to the winners than the losers, but the sad fact is that neither party really cares about the poor and sick and dispossessed because they are regarded as just tools to be used to amass power and win the GAME.
Donald Trump is an interesting intruder into the political duopoly, but he has embraced the Republican Party and they have embraced him to stay in the game. Trump has done a lot of good things for the country in two years, but his narcissism and ego make him prone to major miscalculation in the world arena. If I could vote for Trump on today's Illinois ballot I would vote, but on today's ballot there is nothing for me to vote for. So here I am at Starbucks, bitter that America has a political system that rewards greed and voter laziness.
I will watch the returns come in tonight hoping for a stalemate in the Congress. Trump needs restraint, and a Democratic House will provide that. A Republican Senate will restrain the lefty loonies in Congress and hopefully keep the economy on track.
But until we break the grip of the haters in both parties and attract some people who actually care about doing good, not just keeping power and accumulating spoils, I think I'll just boycott elections and drink my coffee.
Question: Does the state of American politics make you sick?