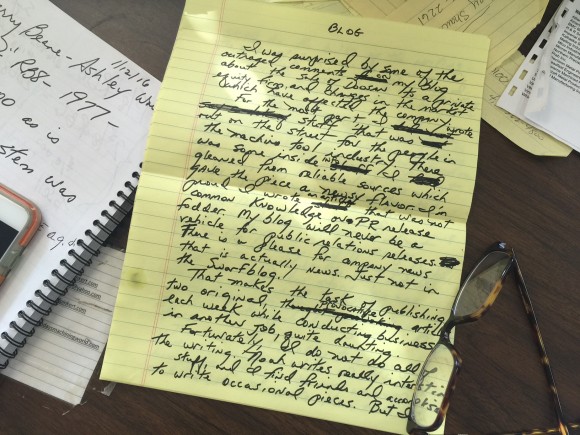 I was surprised by some of the outraged comments on my blog about the sale of Doosan to a private equity firm and changes in the machinery market which have affected the company.
I wrote stuff that was available on the street for the people in the machine tool industry. There was some inside info I gleaned from reliable sources which gave the piece a newsy flavor. I'm happy I wrote an article that was not all common knowledge. My blog also will never be a vehicle for public relations releases. Today's Machining World has a space for official company news called "Industry News," but every Swarfblog is original editorial content.
Publishing two original, provocative articles each week while running two businesses can be quite daunting. Fortunately, I do not do all of the writing. Noah writes really interesting pieces, and I find friends and accomplices to write occasional blogs. But I still do the bulk of the writing. The only way I manage to be as prolific as I am is to follow two simple guidelines I have laid out for myself. I write about things I know and I write about things I care about.
With the Doosan piece, I did know something about the topic because I live in the machine tool world and I talked to people who knew more than I did. I really cared about the piece, too, because the ups and downs of the new machine tool market affect my used machinery business.
The Doosan piece was a fairly unusual one for me, however, because I do not usually spend my days hunting for scoops about the industry. If I was a full-time journalist it might be fun to do that, but I'm not, so the Doosan story was an exception to the usual Swarfblog.
My blogs generally reflect my passions, introspections, joys and fears.
The ones that really touch people, I think, are pieces where I let my humanness show – the ones where I cry a little when I write them, and honest tears are left on the page when I photograph the copy with my iPhone and email it to Emily Halgrimson for transcription.
I know it's a bit dangerous to get down to the bones when I write this blog for 50,000 people, most of whom I do not know, but I have learned that honesty and pain and self-searching is what it's about in life and in writing about life. I may fake it in business at times to move the ball, but in this work I want it to be from my heart. I want to be as straight with the readers as I can be.
My daughter Sarah is a Rabbi in California. She prepares for months mentally and emotionally for her big sermons. We usually confer while she writes them, always at the last minute. I find her messages almost always incredibly powerful because she weaves the stories of people she knows around powerful, emotional themes. Her stories connect with her congregants because they puncture the skepticism and cynicism people arm themselves with when they hear other supposedly spiritual messages that are not really authentic.
I have learned a lot from her. Speak from your gut but do it with stories, not admonitions. People reject lessons, but they learn from stories.
The empty page on the legal pad is always a challenge for me. I know I fail more than I hit with these columns, but it is an amazing feeling to occasionally nail one, even if the readers don't always comment or blister me with vitriol.
I'm going to continue to write what I feel. I hope it works for you.
Question: Trump? Sanders? Third Party?
Lloyd Graff is a Writer and the Owner of Today's Machining World, and also runs Graff-Pinkert, a used machinery firm in Oak Forest, IL.