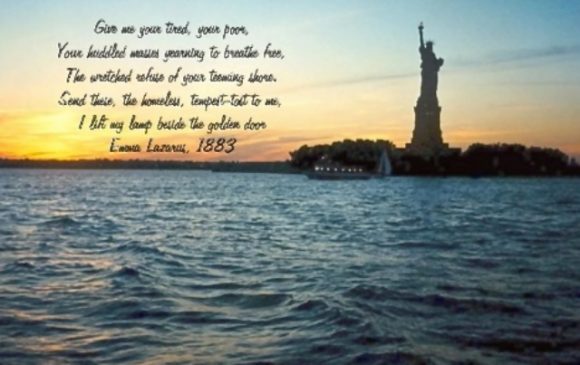 The Tea Party and its junior partner, the Republican Party, is determined to drive itself to irrelevance in National Elections. By dooming the Immigration Reform Bill, Republicans will be seen as immigrant haters. With 2000 Latinos turning 18 every day and an expanding Asian population, a shrewd Democratic candidate can again get almost 80% of the vote of those two groups. The Republican Party is also doing a good job of alienating potential donors in Silicon Valley, where businesses desperately need H-1B reform to fill their job openings. Not only is it wrong on its merits, this is the dumbest strategic political move I have ever seen.
**********
Jeff Bezos' birth parents were a 17-year-old high school sophomore and a 19-year-old professional unicycle performer with the occasional circus gig. His father has never met his multi-billionaire son, the founder of Amazon who is now buying The Washington Post personally. Until a few months ago, he did not even know his son's name. Jeff's mother remarried in Albuquerque, New Mexico, then moved to Miami with her second husband, Miguel Bezos, a Cuban immigrant who became a successful Exxon executive. Jeff graduated valedictorian of his high school class and went on to Princeton. After a few years working on Wall Street he founded Amazon.com in 1994. A variation on the American Dream.
**********
Yeti Coolers, producer of one of the most mundane products I can think of, has been showing phenomenal growth by making a solid, premium product. Their cooler sales have jumped from zero to $100 million in a just few years. Bass Pro Shops can't keep enough in stock to meet demand. Yeti has shown that a superior product, priced intelligently and marketed well can skyrocket in a "me too" market.
**********
Again, in 2013, we see a baseball team with mediocre talent, but players with great character and tenacity, win the World Series. Of course, you also need a hot bullpen, too. The Boston Red Sox, winner of 69 games last season when they had statistically better players, shows talent and money do not always (or even usually) prevail in baseball. The Detroit Tigers had significantly more talent with four superstars and lost. Same for the Los Angeles Dodgers.
Kudos also to Tim McCarver and Joe Buck, who did a wonderful job on the TV broadcast. McCarver, who played catcher in four different decades, was particularly good in making prescient comments that stayed ahead of the action. At the age of 72, doing his twentyfourth World Series, McCarver was never better. I'll miss him in retirement.
Question: Should the United States be more immigrant friendly?
Lloyd Graff is Owner and Chief Space Filler at Today's Machining World and Graff-Pinkert & Co.