For the fiftieth episode of Swarfcast we are playing clips from some of our favorite past podcasts.
Scroll Down to Listen to the Podcast
Highlights include:
(3:06) From episode 1, Lloyd talks about his decision to go into the family machinery business. He also talks about his working relationship with his father and his father's cousin Aaron Pinkert.
(7:37) From episode 15, George Breiwa, founder of DynoVap, talks about his proprietary vaporizer that does not rely on an external electrical source. He discusses manufacturing his product using CNC Swiss screw machines.
(11:10) From episode 10, John Griner, owner of Griner Engineering, discusses his company's drug testing policy.
(13:50) From episode 18, Jerry Levine, former executive at Amoco, gives his take on global warming, saying the earth's environment is not in an age of crisis as many scientists believe.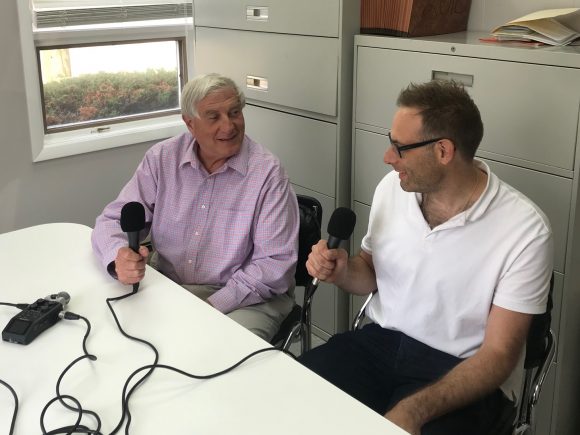 (17:00) From episode 5, Esben Østergaard, founder of Universal Robot, discusses the role of collaborative robots in the future of manufacturing. He says that in today's economy there is a need for robots that are easy to redeploy for constantly changing short runs.
(20:25) From episode 37, Brent Robertson of Fathom gives Lloyd and Noah insight on how they can find purpose running their machine tool business and media business.
(23:53) From episode 47, business writer, Bo Burlingham discusses the keys for business owners to successfully exit their businesses.
(26:47) From Episode 43, Bruno Schmitter, owner of Hydromat USA, discusses his upbringing in Switzerland and the early days of selling Hydromat rotary transfer machines in the United States.
Question: Who would you like to hear interviewed in a future Swarfcast?
Podcast: Play in new window | Download