Scroll down below the blog to listen to the podcast interview with Esben Østergaard.
Today's Swarfcast is an interview Noah and I recently conducted with Esben Østergaard, founder and chief technology officer of Universal Robots, a Danish firm that sold out in 2015 to automation conglomerate Teradyne for $285 million.
Esben started the company on a shoestring with his partners in 2005. They struggled to build a viable prototype and then luckily found an investor who believed in their idea of a compact, inexpensive robot that was easily programmed by factory floor workers. The robot was intended to be used as a tool for a person, or "cobot." It was not intended to be used as stand-alone automation like traditional robots developed for giant automotive plants, doing work around the clock on the same job year after year.
Esben got into robots as a child, developing his first crude robot to solve a problem for his father who was working as an engineer building the water system in Seibu City in the Philippines. At the time, his father's staff was using dogs and piglets to carry cables through the pipes, but the animals proved unreliable and ornery. Esben developed a battery powered robot made from Legos to pull the cables though, which beat chasing dogs around the project.
In the senior year of his Masters Degree studies, Esben and a team of other students developed a robot soccer team which ultimately won a World Championship in the event. Later he studied and worked in Los Angeles and Japan, but eventually returned to the University of Southern Denmark for graduate work and a teaching position.
His passion was to start a company to bring about his vision of a low cost but exceptional robotic arm that would aid people on the factory floor, rather than replace them.
In 2008, with the company starving for the cash needed to develop the distribution and sales to reach the 25 units per month break even point, they found an investor.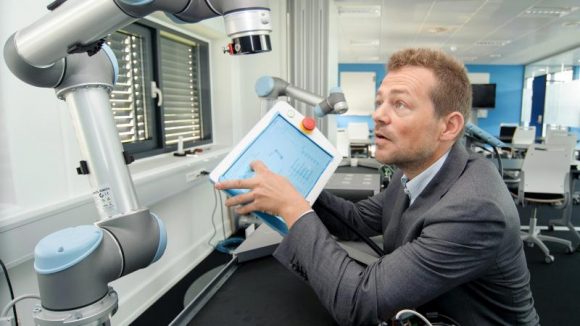 Esben is delighted by the creative ways people are using his cobots, which most people can learn to program in a free 88-minute online course. Universal Robots are giving massages, being used in hospitals for rehab, and landing airplanes as co-pilots. They have even found their way into movies as villains. "You don't even have to dress them up," Esben says.
We asked him if he felt that robots would ultimately replace many people in the work force. He said that many companies who have bought Universal Robots actually end up hiring more people because their businesses grow.
Esben said that he sees the definition of "work" constantly evolving. He said that if a person from a hundred years ago saw a modern office she would not be able to identify a single person working. History has shown that people are driven to work, but they must keep adapting and constantly reeducating themselves as technology advances.
Question: Are you afraid a robot will take your job?
Podcast: Play in new window | Download