On today's podcast we discuss how to run a profitable high volume machining business. Our guest is Harry Eighmy, co-owner and C.O.O. of American Turned Products (ATP) in Erie, Pennsylvania.
Scroll down to listen to the podcast
Harry and his brother Scott believe it is important to invest heavily in high-end turning equipment such as INDEX multi-spindles and Hydromat rotary transfer machines for large volumes. They also make sure to balance their high volume work with smaller run jobs using CNC Swiss and turning centers, such as Tornos DECOs and INDEX C200s.
Main points of the interview
(3:03) Harry discusses American Turned Products' focus on high volume machining, but also the company's ability to machine smaller run prototype parts in order to win high volume jobs.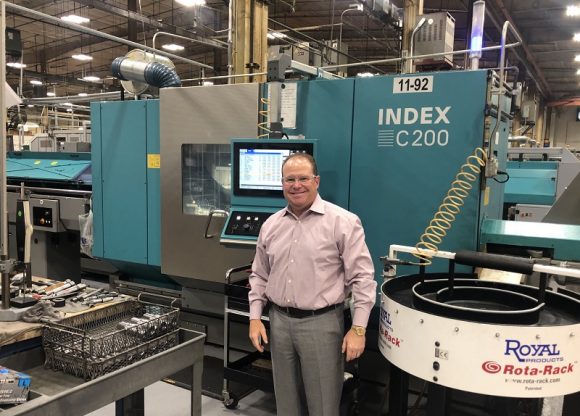 (5:05) Harry talks about the history of his family's machining businesses, starting with a Brown & Sharp shop started by his grandfather around 1955. The family's business evolved into a higher volume model using ACME-GRIDLEYs in 1970s.
(6:40) Harry says that the company doesn't have a huge amount of customers, but it tries to do a variety of jobs for those it has. The company has no customer with more than 25% of its business.
(8:00-14:40) Harry talks about the Davenport shop in El Paso, Texas, his family started in 1990, which he ran for five years starting at age 26.
(16:30) Harry talks about his father, Jerry Eighmy, who had the foresight in the late '90s to sell off all of the company's ACMEs. The company upgraded to all European multi-spindles, particularly Index CNC multi-spindles.
(23:00-26:00) Harry talks about ATP's reliance on INDEX CNC multi-spindles and turning centers, Hydromat rotary transfer machines, and Tornos CNC Swiss. He says that to justify buying a $500,000 to $2 million machine a company has to run it at least 100 hours per week.
(31:00) Harry talks about the importance of having a vision for the company going forward. He says that the quality of people a company does business for is one of the most important factors for success.
Question: Is high volume production too risky these days?
Podcast: Play in new window | Download