Our guest on today's Swarfcast is Jonathan Ladouceur, head of engineering at Twente Additive Manufacturing, a company specializing in architectural 3D printing. We met Jonathan last week when his company bought an ABB IRB 6700 track mounted robot from Graff-Pinkert.
Rather than 3D printing with plastic or metal, Twente 3D prints with concrete, creating huge structures. Jonathan told us that in the next few months Twente will be embarking on a project to produce the frame of a house in 40 hours of machine run time over a six week period.
Scroll down to listen to the podcast.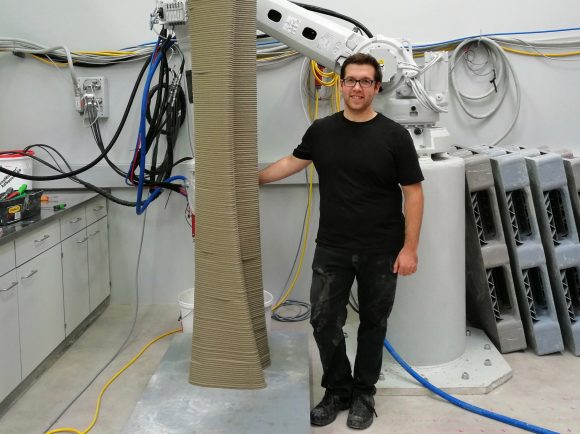 Main points from the interview:
(3:35) Jonathan talks about the emergence of 3D printing with concrete.
(5:20) Jonathan talks about the origins of 3D printing. He characterized the very first versions of 3D printing as "2.5D printing,"  as compared to the processes his company is currently using, printing with concrete.
(9:45) Jonathan discusses Twente's upcoming project to build a code compliant house frame using 3D printing in British Columbia, Canada. This would be the first of its kind in the country.
(16:07) Jonathan discusses the way 3D printing houses may change the building industry. He says, "One of the biggest benefits to 3D printing is the complexity not costing extra."
(20:35) Jonathan discusses the material composition of the concrete Twente is using for 3D printing. The concrete's composition and a precise control of temperature enables it to harden 30 seconds after it is released from the nozzle.
(23:15) Jonathan talks about the design software, Rhino, with an add-on called Grass Hopper that does parametric design. The software also enables the user to map out where the nozzle needs to run.
(27:30) Jonathan discusses his predictions for who will be using 3D printing to produce houses in the near future. He says that it will be important in areas where transport is difficult. The shipping costs to ship traditional building components to remote areas can be astronomical. To build a house with 3D printing all one would need to transport to the location is a robot and some chemical additives if materials can be sourced at a local quarry.
Question: Have any of your clients switched a product from machining to 3D printing?
Podcast: Play in new window | Download