Tyler Jarosz sent me an email about a month and a half ago to ask if Graff-Pinkert would be interested in a used little parts washer he no longer needed in his machine shop. He found out about Graff-Pinkert from listening to Swarfcast, which I'm proud to say is the only podcast he has ever listened to.
At 40 years young, Tyler recently retired, closing Twenty6Products, his 1-employee shop, which had been lucrative enough over the last decade and a half that he can now spend his time doing whatever he wants. For the most part, that's going mountain biking and snowboarding near his home in Bozeman, Montana. I knew Tyler had an interesting story. How does a someone start a 1-person machining company and make enough money to retire at 40? What kind of person would take that path?
Follow us on Social and never miss an update!
Facebook: https://lnkd.in/dB_nzFzt
Instagram: https://lnkd.in/dcxjzVyw
Twitter: https://lnkd.in/dDyT-c9h
Tyler grew up in a small town in Wisconsin. He was diagnosed with learning disabilities when he was young. In high school, the kids in the school's learning disability program were taken on a tour of the local technical college where Tyler was exposed to machining. He immediately fell in love with the trade. After graduating from tech school in three years, he headed straight to Bozeman, Montana, where he could enjoy the outdoor hobbies he loves, mainly mountain biking and snowboarding. 
He got a job in a machine shop right away, starting at the bottom, loading parts into a CNC machine. On weekends, he rented the shop's Haas mills to make break levers for mountain bikes, which he then sold to local bike shops. Later he designed and sold his own bicycle pedals machined from anodized titanium.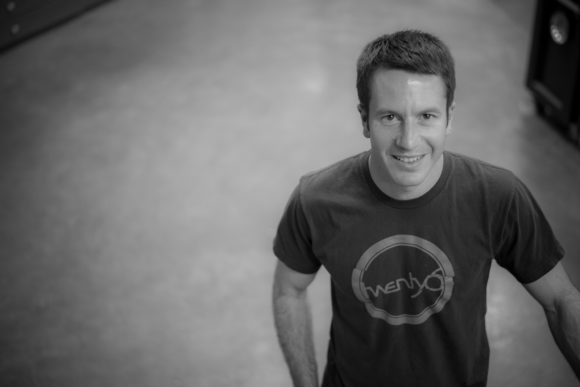 At age 26, after four years working at two shops, there was enough demand for Tyler's products for him to start his own machining company. He had gained such a great reputation from the consistent quality of his bike parts, that a more diverse customer base started seeking him out. He says it was scary to go off on his own, but he had confidence in himself, which he attributes somewhat to competing in snowboarding and mountain biking events when he was younger. 
During his 15 years in business, Tyler never employed any more than one person in his shop, and that person was more or less a button pusher. His business philosophy was simple. He trusted his own quality and commitment, and by having virtually no employees it cut out overhead and a lot of management burden. After a few years, he at least had the sense to farm out managing the company's book keeping. Tyler has never taken a business class and never read a business book. He sums up good business as having common sense. He hired a financial advisor, who laid out a plan to reach a fast retirement, though Tyler says he didn't necessarily expect to do it as soon as age 40.
One of Tyler's secrets to his success was his commitment and laser focus on his work. He always put in 10-hour days, five days a week. He says he held himself accountable to be "a good employee," meaning if he took off two hours out of his day to go to the doctor, he would make up that time later.
Tyler says he is passionate about machining, so of course, I asked him, why he would stop doing it for a living. He replied that he hasn't stopped machining, but now machining is a hobby. He does it because he wants to, not because he has to. Retirement has finally given him the time to do his other passions whenever he wants—mountain biking and snowboarding. When I spoke to him the first time, he was outside digging his own bike trail. Sometimes he likes to listen to Swarfcast while digging. He had never listened to any podcast prior to retiring. Another thing he really enjoys in retirement that he says he used to not have time for is sharing a cup of coffee with his wife in the morning. She is a therapist who works 20 hours a week, which enables she and Tyler to spend a lot of time together.
Tyler's new relaxed yet active life sounds lovely, and he comes across as very at peace and content. But I begged the question, is this existence enough? Is merely getting to do the simple things that give him pleasure whenever he wants enough to make him happy? What about effecting other people other than himself? What was his purpose? Tyler responded that being outdoors doing what he loves is his purpose right now. He also added that in the past he has enjoyed going to speak to high school students about careers in machining and he even gave a student the opportunity to work in his shop. He also was conscious enough to recognize that he can't predict the future. Right now this is where his life's journey feels right. I feel like he really means that when he says it. That I really appreciate. He goes for what feels right, despite that path being different from what the majority of us would likely do.
Tyler is unusual, not just because he was successful enough to retire at 40. Lots of people could retire at 40, but just don't. So many people say they just need to finish this one last thing and then they will have time to rest and "enjoy doing all the things they've always wanted to do." They say they need their kids to graduate, or they need to make just a little bit more money to feel secure. They need to pull off just one more bank heist. Tyler said the same thing. He put his life on hold. He sacrificed 15 years of working non-stop to reach the point where he could stop working. But unlike so many others he actually meant it when he said he would retire. He didn't have ambitions to get richer or accomplish more goals. He reached the moment he could stop working so he could enjoy his passions and spend time with his wife. Then he cashed in his chips.
Personally, I think the ideal career path is to work in a job where you enjoy what you are doing every day and are not waiting for something else. Those gigs are rare I think, but they do exist.
In any case, what I really admire about Tyler is the confidence with which he seems to approach his life's path. He was interested in machining, so he learned to do it. He wanted to move to Montana, so he went as soon as he could. He started his own company alone, despite having no experience or formal education about running a business. He took a chance on himself that if he worked hard enough and smart enough that the time and sacrifice would pay off. 
He is all in in what he does. He believes in himself. He believes he is doing what he should be doing at that moment. I think that is a key to happiness.
Question: What would you do if you could retire right now?
Podcast: Play in new window | Download