This season we're talking about how your machine shop attracts new customers. Today, we wanted to share a podcast from our second season which we feel provides a useful solution to finding fresh business. Tune in to our interview with Greg and share your own experience with manufacturing networks in the comments below. Thanks for listening.
Today's podcast centers around a company that provides capacity for machining firms that lack resources to meet clients' needs.
Our guest is Greg Paulsen, Director of Application Engineering for Xometry. Xometry provides manufacturing on demand using an artificially intelligent quoting system and a manufacturing partner network of over 3,000 companies.
Scroll down to read more and listen to the podcast, or listen with Google Podcasts, Apple Podcasts or your favorite app.


Main points of the interview
(3:00) Greg explains his background in product development working for firms in the additive manufacturing sector. He discusses the his dislike in his previous job of sending out lots of RFQs and then having to wait for responses. 
(3:40) Greg explains that Xometry's purpose is to get rid of the RFQ process for most parts using AI technology. On Xometry's website a person can submit a 3D CAD file and instantly receive an estimate for price and lead time on a job.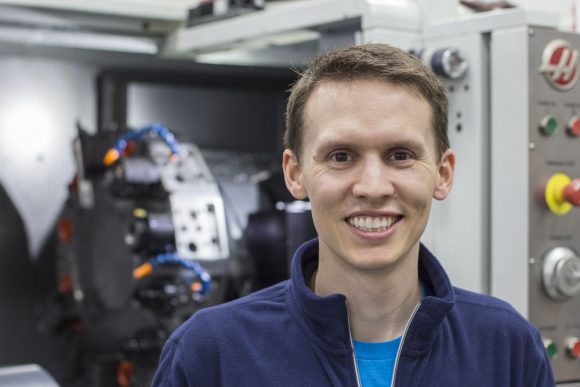 (4:12) Greg says that Xometry has a network of manufacturing partners that can provide CNC machining, sheet metal processing, injection molding, as well as 7 different 3D printing processes for over 60 different materials.
(5:05) Greg characterizes Xometry as a storefront that connects work with those that are best able to produce it. It has over 3,000 manufacturing partners, mostly small manufacturers of diverse disciplines. Greg says that the large number of companies in Xometry's network quoting work enables it to determine what price is "market fair" for a job.
(7:35) Greg says it is easier to quickly determine prices on low volume jobs (1 to 1,000 pieces). He says often large companies such as Bosch use Xometry so they don't have to worry about producing very small volumes. He says that Xometry can also facilitate high volume jobs, but clients would have to have a more involved consultation with Xometry's staff to set up the process, rather than using the online quoting system.
(9:30) Greg says Xometry is usually used by companies who are already working at full capacity and then receive unexpected work. He says shops also utilize Xometry when they need to do work that doesn't fall into their normal areas of expertise. 
(11:30) Greg talks about how manufacturing firms can join Xometry's partner network. He discusses a vetting process in which Xometry pays potential partner manufacturing companies to make a sample part.
(27:50) Greg talks about another service Xometry provides that he calls the Finishing Network. Xometry matches manufacturers with partners that can provide secondary operations, anodizing for example. In these matches the clients can communicate directly with each other, unlike Xometry's anonymous manufacturing on demand service. 
(35:40) Greg talks about Xometry's supply services. The company can provide manufacturers with raw materials as well as tooling.
(44:50) Greg talks about Xometry's revenue model. He says it generally inserts around a 20% margin for transactions. Its system finds the delta between the market fair price for manufacturers' take rates and the market fair price for the customers' take rates.
Question: What have been your experiences with manufacturing networks like Xometry?
Podcast: Play in new window | Download