Josh Hacko is a fourth generation watchmaker. He says he was born into his vocation, but in reality his work is truly his own. 
Josh is Technical Director of two sister companies, NH Micro and Nicholas Hacko Watchmaker, which manufactures high-end wrist watches in Sydney, Australia, that can cost tens of thousands of dollars. 
The company can manufacture up to 85% of a wristwatch's components in-house, including the watch's movement, a feat that only a handful of independent watchmakers around the world have accomplished.
With his team, Josh engineers and machines his watches' components, and he and his dad come up with the watches' designs.
If you love a story about business, technology, design, and serendipity, this episode is for you!
***************
Link to Graff-Pinkert's ad for Graff-Pinkert's Acquisitions and Sales promotion!
***************
Listen on your favorite podcast app using pod.link, or:

Follow us on Social and never miss an update!
Facebook: https://www.facebook.com/swarfcast
Instagram: https://www.instagram.com/swarfcast/
Twitter: https://twitter.com/TMWSwarfblog
*************
The Origin of Nicholas Hacko Watchmaker
Josh's grandfather and great grandfather were watch repairmen in former Yugoslavia. In 1994, Josh's father, Nicholas, also a trained watch repairman, emigrated to Australia, fleeing the war in his home country. In Australia, Nicholas did watch repair and became a dealer of secondhand high grade Swiss mechanical watches, which the company still sells today.
In 2011, the world's Swiss watch market was turned upside down. All of the Swiss watch companies, such as Richemont Group, Swatch, and Rolex formed a cartel, restricting the supply of spare parts to independent watchmakers around the world. Overnight, spare parts became unavailable to any independent watch repair person.
Josh says this was the equivalent of a Ford dealership mechanic being unable to source spark plugs, windshield wipers, or tires. 
Nicholas asked the Swiss watch companies if he could send Josh to Switzerland to be trained as a watch repairman in order to then gain the right to buy watch parts, but the companies all rejected the idea, saying that "no Australian could be capable of properly repairing Swiss watches."
This event inspired a crazy dream for Nicholas—building a watch from scratch in Australia. It was something that had never been done before.
At first, Nicholas believed a super machine existed that was capable of making all the components for a wristwatch, but he soon realized that was a fantasy.
Nicholas Hacko Watchmaker started its new wristwatch business, selling wristwatches that were designed, assembled, and adjusted in Australia, but made from parts produced overseas.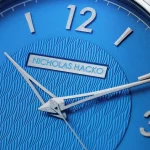 In 2016, Nicholas and Josh embarked on a quest to manufacture the first watch from scratch in Australia, which they accomplished in 2019 with their NH1 series. Josh says the reason that the company produces only 85% of the watch rather than 100%, is that the rest of the necessary components are commodity parts that are better quality and cheaper to purchase off the shelf, such as springs and jewels. He says that nobody else in Australia is producing the movement of the watch (the back end mechanisms) like his company and probably only five independent watchmakers in North America have similar capability. 
The interview has a lot of great moments. Josh talks about buying a Citizen r04 off the floor of a trade show in Stuttgart. Neither he nor his father had ever operated a Swiss machine before, and they didn't realize at the time there was no substantial support for the machine in Australia. They had to teach themselves.
Josh talks about his passion for designing the watches, a task which the company has never outsourced. He came up with the design of the company's Mark II model by observing the mosaic on a table at a restaurant on a beach front while at dinner with his wife. 
He says he has grown over time to imagine design more freely, rather than approaching it solely in a "functional way" that revolves only around engineering. 
Josh's passion for his work, both the technical machining processes and designing are contagious in his presence. He says he has "never worked a day in his life" and he is grateful to be "born into this world of watchmaking." He says he fell into his professional life, but I disagree. I say he created it.
Question: If you wear a wristwatch, why do you wear it?
Podcast: Play in new window | Download