Today's guest on the podcast is Marco Schiavoni, owner of Pizza Metro, one of my favorite pizza places in Chicago. Marco has been in the restaurant business for 20 years, and like most business owners he's seen his share of ups and downs over time.
Scroll down to listen to the podcast.
I spoke to Marco last weekend about how restaurants in Chicago are navigating the COVID-19 crisis. He also taught me the secret to making the perfect espresso.
Main points of the interview
(2:45) Marco gives his story. He talks about leaving his home in Rome to come to Chicago in the '90s. He realized there wasn't a traditional Roman style pizzeria in Chicago so he opened Pizza Metro in 2001. Roman style pizza is served cut into square slices that are easy to eat on the go. He says that Pizza Metro is one of the top 10 pizza places in Chicago. 
(4:10) Marco describes the small size of Pizza Metro. The restaurant is around 700 square feet and has 15 stools. One cool feature of the restaurant is that you can sit at a bar and interact with the cooks while you watch them cook your food. 
(7:00) Marco talks about how his pizza is unique because it's made in the traditional roman style, but every slice customizable as far as toppings. This differs from pizzerias in Italy, which usually only offer a few choices
(8:40) We discuss how Chicago's Wicker Park neighborhood has changed since Pizza Metro opened on West Division Street in 2001. Marco says when he first opened there were hardly any restaurants and many gangs in the area. He said during his second year in business the laundromat across the street was replaced by Starbucks and everything started to change. Today, Division Street is super trendy, with too many restaurants to choose from.
(10:15) Marco explains why Pizza Metro's espresso is the best in Chicago. Marco says he started making espressos when he was 13 years old. He says you have to grind the coffee to a different thicknesses based on the humidity at the time. He says his beans are some of the best imported coffees from Italy. Marco also says he makes his espresso with much less water than the way it's usually made in the US. He says you can tell if the espresso was made properly if you put some sugar on top and it takes 6 seconds for it to fall through the surface. 
(16:40) Marco speaks about shutting his restaurant down at the very end of March. He says that one day he noticed the street was empty and that Starbucks was closed. He saw this as a sign that he should close as well. Marco closed Pizza Metro for a month and said it was the first time in 19 years he had a true vacation because it was first time that he didn't have to worry about what was happening in the business. 
(18:22) Marco explains that the pizza business is good in both strong and weak economies. He says in a weak economy a pizza business can thrive because many Americans don't know how to cook and a pizza can feed a family for a relatively low price.
(19:30) Marco says that what spurred him to reopen his business was that his employees needed the work. Otherwise he might have stayed on vacation a little while longer. 
(21:30) Marco says that people are going to start new businesses and alter their business models to adapt to the COVID-19 crisis. He says that restaurants who succeed will use social media to get exposure. He says people will put up videos of new, creative dishes they are working on. He alludes to a secret new desert item he is working on. He plans to pass it out to Starbucks customers waiting in line for coffee when it reopens.
(25:20) Marco thinks that many big restaurants will close, which will decrease competition. He says that many restaurants cannot stay in business if only a small number of people can eat there because the restaurant still has to pay the same rent and expenses as they did before COVID-19. He also says that if the country goes into a recession less people will eat out.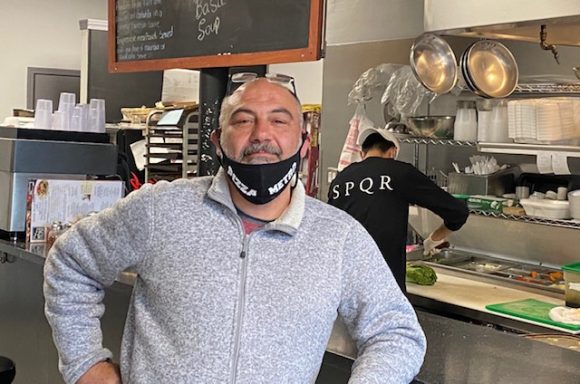 (27:30) Marco expresses worry about the health of restaurant workers. He says most restaurant kitchen staff do not have a lot of money so they are forced to take public transportation, and this puts them at higher risk for catching coronavirus. He says if one person on staff gets coronavirus he would have to close his restaurant for at least 2 weeks to ensure everyone is not infected. 
(33:40) Marco says he thinks that the US will look at how businesses are reopened in Europe. He talks about the first coffee bars in Italy that are just opening up. He says that people have to wait outside the cafe and only one customer is allowed to enter. The customer has to be 2 meters from the barista, so after the barista makes the coffee she has to back up from the bar for the customer to pick up the cup of coffee and leave the money. He says that even some restaurants in Italy that have been open for 50 years will eventually be forced to close because they can't afford to pay their fixed expenses.
(35:00) Marco believes that people will learn to adjust to the new normal. He wishes the best to all the other restaurant owners and says the ones who survive will be stronger than before.
Question: What's been your favorite takeout food during the COVID-19 crisis? Are you afraid to order takeout?
Podcast: Play in new window | Download