Just as online shopping has transformed U.S. retail sales, the Internet has also remade the newspaper industry, but in a manner less obvious to most people. The old print newspaper business and revenue model has been seriously broken by young upstarts—young both in age and in technology. In Merchants of Truth: The Business of News and the Fight for Facts, Jill Abramson, a former senior editorial executive at both The New York Times and The Wall Street Journal, has provided an insider account of an industry fighting for its life. She examines four competitors—the traditional New York Times and Washington Post, and two digital upstarts—BuzzFeed and Vice.
The generational gap among readers of the traditional papers and the upstarts is astounding. The median age of subscribers to the Times or Post is over 60 years old. Whereas, people under 35 get most of their news online. The old system relied heavily on an extensive world-wide staff gathering and reporting stories. The new news organizations like BuzzFeed rely heavily on a small staff gathering online information from various sources, mainly Facebook postings, that then is consolidated, edited, and reposted. What is news is no longer determined top-down by an authority like Walter Cronkite or The New York Times. On the Web, the audience establishes its own priority. The readers become the publishers. Or, more sarcastically, the inmates are running the asylum.
Similar to BuzzFeed, Vice built its business on the back of YouTube. To quote Vice's founders, Shane Smith and Spike Jonze, "The video site was overflowing with amateur uploads and bootlegged clips. To attract a young audience, stories were told from the street level by people with absolutely no training in news."
The traditional newspaper model was broken both on the content side as well as the business side, and newspapers were very slow to see it coming. New York Times editors clung to the notion that their new website would merely be a superficial resemblance of their existing print paper. But news and opinion sites like the Huffington Post and Drudge Report were already siphoning off its reporting, digital advertising, and audience.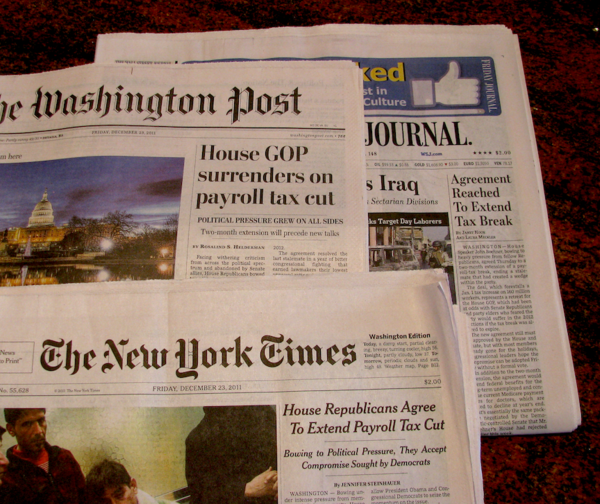 Other websites were destroying the traditional newspapers' classified ads, which had accounted for millions of dollars of revenue. Craigslist lured away "for sale" ads, and Monster.com or Jobs.com grabbed the "help wanted ads." Travel and auto ads were hammered by Expedia and Autotrader. Local ad revenue also declined as local department stores and businesses closed, due to online shopping. The Washington Post was especially hard hit because classified ads made up 40% of its revenue. Additionally, local papers supported by The New York Times and The Washington Post have been either gutted or closed, depriving many rural and suburban readers of local information, like high school sports.
As profits declined, both papers began extensive cost cutting. The stock price for The Washington Post fell from about $1000/share to under $400/share. It needed a huge cash infusion to avoid going bankrupt. The Graham family proposed selling to Amazon founder and Chairman, Jeff Bezos, based on his Internet expertise. Bezos had three essential questions: 1) Was the Post still an important institution? 2) Could he be optimistic about its future? And 3) Did he have the technical knowledge to reverse the paper's downward spiral?
He finally concluded yes to all three. Katherine Graham came back with a $250 million proposal and Bezos accepted. Fortunately for Bezos, shortly after the purchase the paper broke the Snowden/NSA story. This gave a short-term boost in readership, but also answered the first of Bezos's questions: the paper was still relevant.
The Times was also hemorrhaging money, and needed a White Knight. Carlos Slim, the richest man in Mexico, came forward with a $200 million loan at 14% interest and the right to buy 16 million shares (about 17% of the company) at $6.36/ share. (As of this writing, NYT stock is selling for about $32/share and are servicing the loan. Slim made quite a good deal.)
In the near term, both The Washington Post and The New York Times seem to have survived the ferocious waters of the digital revolution. Before Trump, but especially after Trump, both papers moved further to the left in both their editorial positions and their news reporting. They are regularly attacked by the President as "failing" purveyors of "fake news," with minimal impact on their readership. They have revised their websites to include more news updates and videos. They are still relevant, but need to explore additional revenue streams to maintain financial stability. Most important they need to worry about their aging demographic.
Question: Where do you get your news from?
Jerry Levine is a former chemical engineer, political expert, and frequent contributor to the Today's Machining World website. Check out our interview with Jerry on Swarfcast Episode 18: Jerry Levine on Why Global Warming is Not a Problem.