Today's guest on Swarfcast is Michele Tajariol, an old friend of ours and co-owner of TAJMAC-ZPS, one of the world's most prominent producers of multi-spindle screw machines.
Scroll down to listen to the podcast.
In the interview, Michele discussed how his family's business grew from a used machine tool dealer in Italy into a diversified multi-national machine tool builder. He also recounted his career path, first working with his father in Milan, followed by a short stint in Chicago working at Graff-Pinkert, and finally moving to the Czech Republic where he became the manager of ZPS's factory.
Main Points of Interview
(5:10) Michele talks about the history of his family's business. Tajmac was started by his grandfather Amadeo in the 1930s, producing mechanical lathes during World War II. Later, Amadeo became a rebuilder of single spindle machines, and sold used turning equipment. Michele's father Andrea and his uncle, who would later leave the company, joined Tajmac. In the '90s, Tajmac began distributing new multi-spindle machines from ZPS a Czech machine tool builder. The company sold machines in Italy, Germany and the United States. (In the United States during that time ZPS multi-spindles were known as Euroturns).
(6:55) In the early '90s, Tajmac bought Wickman, the British multi-spindle builder, when it went bankrupt. It was Tajmac's first experience producing new machine tools. In 2000 Tajmac bought ZPS. The company was in financial trouble, and Michele's father liked the rigidity of the machines and the price.
(9:45) Michele says his father taught him the importance of loving your job, even if the job wasn't your original dream. Also he says it's important to do a job in the manner you like so you can continue to do it longterm.
(11:30) Michele talks about his experience coming to work Graff-Pinkert in 1999. At age 22 Michele had been working at Tajmac for three years. Lloyd Graff suggested to Michele's father that it would be an interesting experience for Michele to try working in the machinery business in the United States for three weeks. He ended up remaining in the United States for four months. Michele enjoyed working at Graff-Pinkert where he felt a similar familial atmosphere to Tajmac, he enjoyed Chicago and he also met a girl in the city.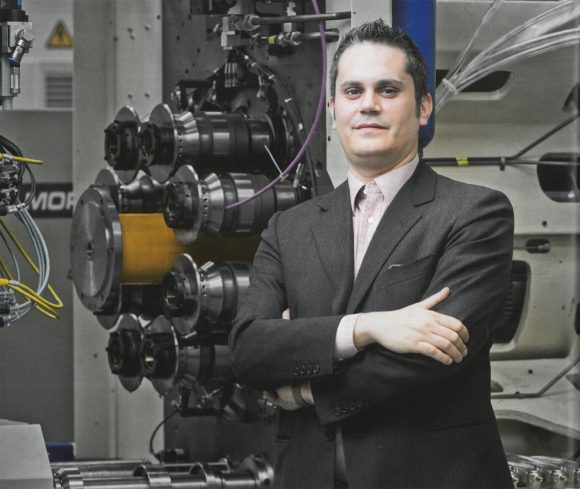 (15:10) Michele talks about joining his family's business. He said his father never put pressure on him to work at Tajmac. Michele did not like going to college in Milan where he only attended school for one year. He needed to work somewhere, and the machinery business seemed like a opportunity.
(16:20) Michele talks about how he came to work at the ZPS factory in Zlin, Czech Republic. The first manager Tajmac hired to run ZPS didn't work very well for the first year or so. At 25 years old, Michele went to Zlin with some friends for a holiday weekend. He loved the city and was single, so he decided it was a good opportunity to live and work there. After a short time working at ZPS, the second general manager the company had hired was also unsuccessful. Michele then decided it was best for him to try running the company.
(22:30) Michele says he thinks he is just an "OK general manager" but considers himself a "good owner" who knows multi-spindles well. After 20 years he says he finally feels that he has a decent proficiency in the Czech language.
(24:30) Michele talks about all of the types of machines the TAJMAC-ZPS produces at its factory in Zlin. The company produces multi-spindles, Manurhin sliding headstock machines, CNC machining centers (multipurpose, horizontal and vertical), and gantry bed mills. It also builds plastic injection molding machines for Negribossi. The company also has its own foundry.
He says the most profitable machines the company builds are its multi-spindle screw machines, but those machines also take the most skilled labor and engineering because they are so complicated.
(27:20) Michele says ZPS is one of the only machine tool companies that makes every part in its machines starting with the casting. He says this is not the best business model, but it produces the best quality machines.
Question: Do you prefer to buy new or used machine tools?
Podcast: Play in new window | Download