Today's Show is part one of a new season in which we're talking about companies that produce their own products. Our guest is Howard Smith, owner and CEO of Wilson Bohannan, a 160-year-old padlock manufacturer.
Scroll down to listen to the podcast. Or listen on your phone with Google Podcasts, Apple Podcasts or your favorite app.


Main Points
Howard talks about Wilson Bohannan's products. The company makes brass key padlocks with stainless steel shackles, as well as other locking devices. The padlock business is still the company's most important product. The company began in 1860, making padlocks for railroad cars. At the turn of the century, as the railroads were consolidated, it turned its focus to utility companies and heavy industry. Its products are designed for extreme weather conditions—freezing cold, wet, desert, etc. The locks range in size from an 1-1/4" to over 2" wide. Howard says the locks vary in security, from a "glorified seal" to sophisticated highly secure locks with computer chips in the key and lock. (3:30)
Noah asks if it's possible to break locks by shooting them with a gun like in the movies. Howard says it's possible to engineer a lock that when shot with a gun collapses the mechanism and the casing around the key barrel to stop it from breaking. He says that Wilson Bohannan actually won a customer who shot a magnum rifle at one of the company's locks but was unsuccessful at opening it. (6:45)
Howard discusses the company's computer chip locks. The chip in the key and the lock talk to each other, allowing the owner to change the combination via computer or cell phone. (7:25)
Howard talks about the history of Wilson Bohannan. He says the company was founded in 1860 in New York by Wilson Bohannan and his son Todd. He says it was a good time to start the company because from the 1870s to 1930s it was the Gilded Age of America, when manufacturing had few restraints, regulations, and taxes. (8:20)
Howards explains that Wilson Bohannan was his wife's great great grandfather. He started working at the lock company 47 years ago in the accounting department. He is the 6th family generation of owners, and his daughters are the 7th generation. (9:00)
Howard discusses how locks have stayed relevant and how they have changed over the years. He shows Noah a few of the locks the company makes such as a cable lock, a shrouded lock that has a component around it that protects it, and an interchangeable core padlock. (10:20)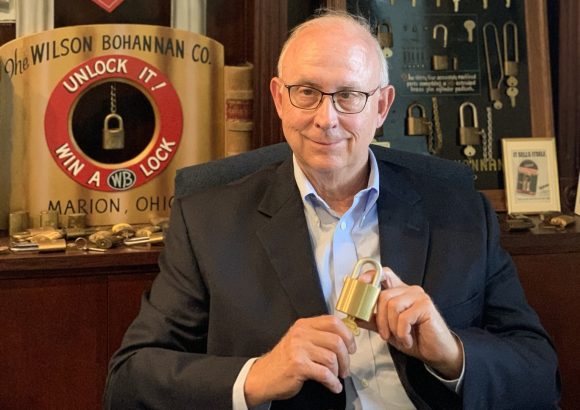 Howard states that while innovations like computer chips and bluetooth have kept locks relevant and added functionality, the mechanical components remain the heart of the products. He says that computers can be hacked and magnets demagnetized, but a quality mechanical lock will still require a key, giving the analog components an advantage over other technologies. (13:50)
Howard says that Wilson Bohannan has an extensive R&D department, which is focused on continuous improvement so that its products remain relevant. He says that the company remains competitive by gauging what customers want by going to trade shows and by tailoring products to individual customers' specific requests. For instance the company had a customer who needed a lock for an irrigation system. It had another customer in the oil business who needed a shackle lock with a loop to keep leaded and unleaded gasoline separated. (15:40)
Howard talks about Wilson Bohannan's facility and the machines used to manufacture its products in house. Every component of the locks is manufactured and assembled starting with the raw materials at the company's 40,000 square-foot factory in Marion, Ohio. The company employs around 70 people, working three shifts, five days a week, and can make just about any lock on its machines.(17:35)
Howard says that outsourcing components, even to other US companies would compromise the integrity of Wilson Bohannan's products. He says keeping everything in house protects the products' quality and allows the company to make products to order. (18:40)
Howard refers to Wilson Bohannan as a job shop because it tailors its products to the specific needs of customers. He says making products to-order helps the company avoid the expense of having to buy and store large lots of component parts and allows it to produce custom products more quickly. For certain parts that require larger volumes the company has a Tornos MultiAlpha multi-spindle and two EPIC Hydromats. (19:30)
Howard says Wilson Bohannan considers itself as a small business, making just 5,000 locks a day. He says Master Lock makes hundreds of thousands of locks per day to stock retail stores like Lowes and Home Depot. Howard says Wilson Bohannan tried selling locks to Lowes and Home Depot in the 1990s, but it was not a successful business model. (21:25)
Howard describes the evolution of the lock making business. He says that over 100 years ago there were hundreds of lock manufacturers in America, and 40 years ago there were around 30. He says that in the last 10-15 years, everything has changed. Now there are around five padlock makers in the US. Most of these companies mass manufacture and widely distribute their products, whereas Wilson Bohannan has always built custom locks, which enabled the company to stay successful. (23:30)
Howard says that the company doesn't worry about intellectual property theft. Instead, it focusses on reinvesting in talent and equipment, and maintaining a good company culture.
Howard discusses how Wilson Bohannan remained a family owned business by buying out its early stockholders. Today, just three family members run the business, Howard and his two daughters. (27:10)
Howard says he is excited about the current reshoring of American companies and the improving infrastructure in the US to revitalize its manufacturing sector. (31:00)
Howard says that Wilson Bohannan has not considered buying out other lock manufacturers. He says it prefers to grow its business through technology and innovations. (31:45)
Howard states that he is not in the business just to make money. He says he has no interest in ever selling Wilson Bohannan. He says he is proud of the company's identity as an American made business where the focus is on building something useful that benefits the lives of employees and customers. 
He says that Wilson Bohannan will represent the State of Ohio at the Made in America Showcase at the White House (Oct. 5 this past week). (32:40)
Howard says he worries about the future of America, especially with the current political climate and the pandemic, but he still remains confident that things will soon improve because of the entrepreneurial spirit of American businesses. He says he hopes that soon people will feel safe walking around again and being neighborly with each other. (35:00)
Question: Do you lock your door during the day?
Podcast: Play in new window | Download