Ping pong has changed my life. 
I thought about that a few days ago when I watched my adult sons whacking backhands and forehands playing against and then with each other in doubles at a big family celebration in California. They love the game almost as much as I do. 
The family they are part of never would have happened without ping pong. I started playing as a kid with my dad. Great for developing hand-eye coordination and a father-son relationship. I graduated to after-school competitions. One year, I played three games for the school championship before a few hundred people.
When I went to college at the University of Michigan, eight tables were set up on the second floor of the Michigan Union next to the pool tables, not far from the Grand Ballroom where dances were held. I immediately gravitated there and spent many hours playing, often against very good players from around the world. 
The Union was just a 3-minute walk from the Michigan Daily where I worked for four years, and eventually became the Sports Editor. I left Ann Arbor after graduating in 1966 but returned a year later after a stint in the Illinois National Guard, doing basic training at Fort Jackson in South Carolina.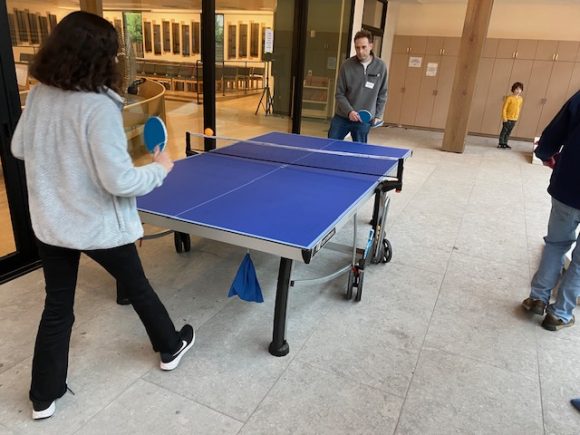 I went back to Michigan to study journalism in grad school. A few months after the fall semester began, I decided to go back to the Union for more ping pong on a Saturday night. It was a freezing January evening, but freshmen were streaming into the building for a big dance being held about 50 feet from the ping pong tables. The music was distracting me anyway, so I decided to walk into the dance with my paddle sticking out of my jacket pocket.
I surveyed the crowd of young women, most of them six or seven years younger than myself, and out of the crowd of at least 1,000 people, I saw one girl, one beautiful girl, in a plaid mini skirt. I walked across the entire ballroom to say hello.
Sixteen months later, in Risa's Levine's hometown of Charlotte, North Carolina, we were married. 
When we bought our home eight years later, it had to have plenty of space for a ping pong table. 
As our three children grew up, family ping pong was often played after dinner. It wasn't just played for enjoyment. Frequently, it was a therapy session, just hitting the ball gently back and forth. Sometimes we talked, but often we just hit, allowing thoughts and anger to play out. 
I recently heard Brené Brown, a well-known writer and business consultant, saying she does her best creative thinking while playing ping pong. 
It brought me back to those many nights spent quietly hitting with my kids in our basement. I don't play anymore because seven retina detachments have robbed me of my depth perception, but I still dream and imagine the tapping of the ball against the green painted wood table. 
Ping pong. You never know how a 38mm hollow celluloid ball (now 40mm and polymer) and a pimpled rubber paddle might change your life.
Ping pong, savor it all.
Question: What activities do you like to do to get your creativity going?