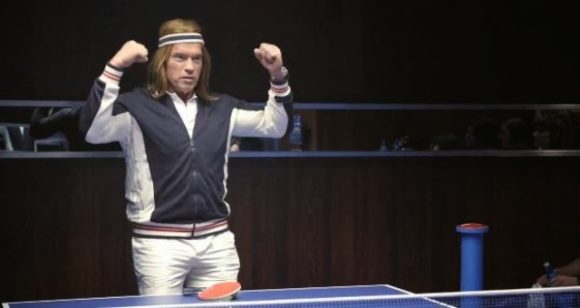 When the Internet nerds from Tumblr sold out to Yahoo, they rented a $75 per square foot space in New York's iconic Flatiron Building. One of the first things they did upon moving in was to install a ping-pong table right in the middle of the office.
It seems like every hot Internet startup puts in a table and paddles as soon as the ink is dry on its lease. Therapists use the "thwup" of pimpled rubber on celluloid ball to calm and focus their patients. Kuka, the big Japanese robot maker, brought in a ping-pong world champion from Europe to inaugurate its new factory in Shanghai. Arnold Schwarzenegger played ping-pong in this year's Bud Light Super Bowl commercial. The old suburban basement game of the Leave it to Beaver set is hot again.
I have loved the game since childhood. I grew up playing with my dad at home — never competitively. We would talk and kid around and try out spins. My friends loved to come over and play the game at our house. My cousin, Don, who had trouble making friends and eventually had an emotional breakdown, loved to play. He lost himself in the game and played well. We communicated through ping-pong.
I got to be a good player at religious school. I went to Hebrew school in the afternoon after regular school and they had a gym program to entice children to attend. There was a year-long table tennis competition and the two best players played for the championship at the awards dinner. I won two years in a row. I remember those matches a lot better than my Hebrew.
I met my wife Risa, literally, with a ping-pong paddle in my pocket. I was at the University of Michigan Student Union looking for some competition and had brought my own personal paddle. I couldn't find a game so I ambled toward the music blasting down the hall from a Freshman dance. I surveyed the girls in the room and was drawn to one in particular. She evidently was not put off by the grad student with a paddle in the pocket of his corduroy sport jacket.
Table tennis has always been close to my heart. After seven eye surgeries, today I play more by feel and sound than visual acuity. I understand the allure for the Google and Tumblr sets. You don't need to prepare to play. You just walk up and hit. No uniform, no padding, little equipment. It is not as time consuming as running. Not spiritual and solitary like yoga. It's a social game and fun. When my children were young we would play often. When they were agitated or withdrawn sometimes the only way we could break the ice was hitting the white ball across the net.
My wife is an educational therapist and works in our house with a lot of kids and teenagers who have ADHD. When a student cannot focus or is uncommunicative she often asks them down to our basement to play ping-pong. She says it always lifts them out of their funk. I suspect it works along those lines in Silicon Valley offices.
To me the sound of the paddle striking the ball is magical. Playing invariably buoys my mood.
When I bought out my brother I vowed to buy a table for Graff-Pinkert. I am still going to do it. I wonder if we would still be partners if we had a table in 2012.
Question: Do you feel magic when you play ping-pong?