On today's podcast we interviewed Rick Wheeler, owner of O'Malley Manufacturing in St. Petersburg, Florida, a company originally founded in 1910.
Scroll down to listen to the podcast.
Over the years O'Malley has had a knack for finding niche products to produce such as the Hair Snare, Lint Snare and Bait Bucket, which are all made with robotic injection molding. Rick likes to manufacture with injection molding because it allows him to make his products in-house from start to finish, and to sell them at competitive prices compared to products coming from overseas.
Main points of the interview 
(3:30)  Rick gives some history of O'Malley Manufacturing, which was started in 1910 as Edward O'Malley Valve Company. Rick's great aunt married the company's owner, Tom Reed, and when Reed died, Rick's grandfather took over the business. After serving as a pilot in the Navy for six years, Rick came to work at the business in 1991.
(5:45) When Rick joined the business in 1991, O'Malley's primary product were faucet and valve reseater kits, which they called Drip Stoppers. The company used Brown & Sharpe screw machines to make cutters and stems.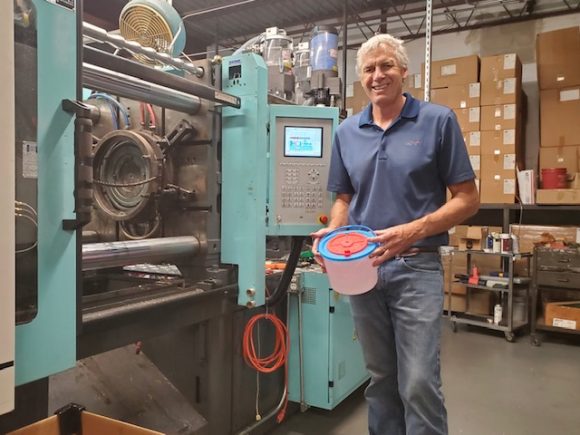 (7:30) Rick talks about some of O'Malley's main products. In 1969, an inventor brought the company a product she had come up with called the Hair Snare. The Hair Snare has a raised screen that typically goes over a bathroom sink drain to catch hair and small objects like jewelry and contact lenses. The inventor had first sought out much larger plumbing suppliers such as BrassCraft to make her product, but they weren't interested. O'Malley was recommended to the woman by several people because they knew the company from the National Hardware Show and International Home + Housewares Show where it had exhibited for decades. This was the first product the O'Malley produced with injection molding.
(10:30) Rick talks about another product from O'Malley called a Lint Snare, which is kind of like the Hair Snare, but instead of preventing hair from going down a bathroom sink drain, it is a filter that prevents laundry lint from going down the drain of a laundry tub. When one of O'Malley's salesmen brought the product to Rick's father in 1985, he balked because the product required knitting. Eventually he was convinced the product had potential and bought six knitting machines to make it from start to finish.
(13:00) Rick talks about O'Malley's relationship with the Hair Snare inventor. O'Malley bought the patent from her and paid her a royalty of 2% of gross sales until the patent ran out. 
(14:00) Rick explains that his bait bucket can transport 1 to 2 dozen live shrimp to use as fish bait. It needs to have a top to keep water in, but still be has to be easy to open. Rick bought the bait bucket business, which came with the molds and a customer base. 
(16:00) Rick talks about O'Malley's entry into the injection molding business. For the first several years of producing the Hair Snare, O'Malley used contract molders. O'Malley owned a mold, which at the time cost $25,000. Contractors held the mold and made pieces as needed. After several years using contract injection molding companies successfully, O'Malley's mold was stolen by one of its contractors. After this incident, the company decided to do its injection molding in-house. It purchased its own molding machine along with an integrated robot, and was able to eventually produce parts lights out.
(21:20) Rick says he likes the injection molding business because enables him to make products cheaply enough to compete with overseas competitors. He says he prefers this business to precision machining metal parts because he thinks it would be much more labor intensive. He says he doesn't want to be spending hours in the office quoting lots of jobs and have to employ setup people. Also, he says he likes the process of injection molding. He likes the challenge of understanding the pressures and temperatures, the tonnage of the machines, the clamping and how to adjust the settings of a machine to get his desired part. 
(24:40) Rick says much of his success in acquiring products to make comes from good networking. He advises people make products rather than just selling other people's products. He says that with the right equipment, injection molding provides a lot of possibilities to make products from start to finish. He says he knows many successful entrepreneurs who make their own molds, finding product ideas by searching the internet for popular items.
Question: Have you been able to make your own niche product?
Podcast: Play in new window | Download