On today's podcast we delve into the world of centerless grinding, a vital process in precision machining that some less informed folks label as a dirty, dark art. Our guest is Romas Juodvalkis, founder of Allways Precision, one of the largest Cincinnati centerless grinder rebuilders in the United States. 
Scroll down to listen to the podcast.
Main points of the interview
(3:00) Romas discusses founding Allways Precision 27 years ago as a repairer and rebuilder of Cincinnati centerless grinders. He says the company over the years has grown its capabilities and now provides automation devices, both for the grinders it sells as well as other types of machines. The company now builds grinders with CNC capability that have as many as 11 axes for doing complex features on parts.  
(5:00) Romas discusses more about the advantages of his CNC retrofitted centerless grinders. For example, instead of doing four passes on a part to get all the dimensions a machinist can do the job in one pass.
(6:30) Romas discusses various uses of centerless grinders such as grinding bar stock so it can be run in the collets of a CNC Swiss machine or finishing off parts that have already been machined to obtain better tolerances. 
(7:25) Romas discusses the advantages of using centerless grinders over cylindrical grinders. 
(9:20) Romas discusses the lack of proficiency of most machine shops at operating centerless grinders. He says people are a little scared of centerless grinders because they don't understand the process. He talks about which machining companies can justify having centerless grinders. He says they are only worth owning if a company has a high enough volume of parts and skills to run the machines efficiently. 
(12:30) Romas says that centerless grinding is not difficult to learn. His company is usually able to train people to use his machines in three days. 
(13:30) Romas says that all types of metals can be centerless ground. He also has customers who centerless grind plastics, glass, ceramics, carbide and diamond. He says anything that needs to be round with precision can be ground.
(14:55) Romas says Allways has been growing constantly and estimates he only has around 10 competitors, and they all vary in their specialties and work standards.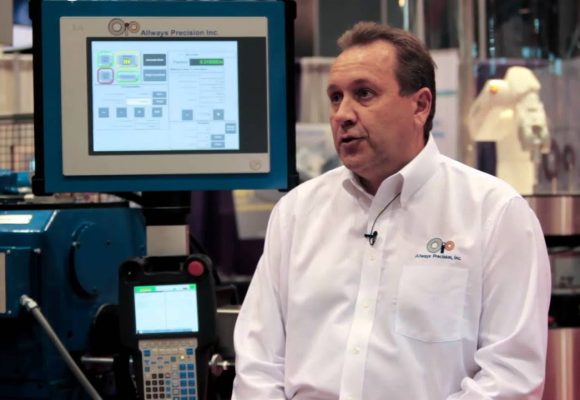 (16:44) Romas says that most of the best centerless grinders available are rebuilt Cincinnati grinders since Landis bought out Cincinnati in the '90s. He says Landis built only eight centerless grinders last year while he sold 25 rebuilt ones. He says some centerless grinders are built overseas but most of them are poor quality and will last only a few years before they should be thrown out. Allways Precision uses Cincinnati centerless grinder castings from all the back to the 1940s because they were built so well. Allways stabilizes the castings, rescraping, refitting, and realigning everything.
(19:45) Romas talks about the B&R CNC control Allways puts on its machines, which he says can be continuously updated. He says it is a big improvement from controls such as Allen Bradley or Windows, which become obsolete after a few years.
(22:45) Romas says Allways rebuilds one machine every two weeks and has 350 machines in its inventory available for rebuild. 
(23:00) Romas says prices for machines from Allways range from $50,000 for used machines in good working condition to $350,000 for full rebuilds with CNC controls. 
(23:45) Romas talks about Allways' business as a robot integrator for CNC machines and centerless grinders.
(25:20) Romas talks about the safety features on his rebuilt machines. 
(26:20-31:50) Romas talks about his company's emphasis on educating customers and potential customers on how to get the most out of Cincinnati centerless grinders. He says that with a few days of proper training he can dramatically improve a shop's output.
Question: Do you have a desire to learn to centerless grind?
Podcast: Play in new window | Download